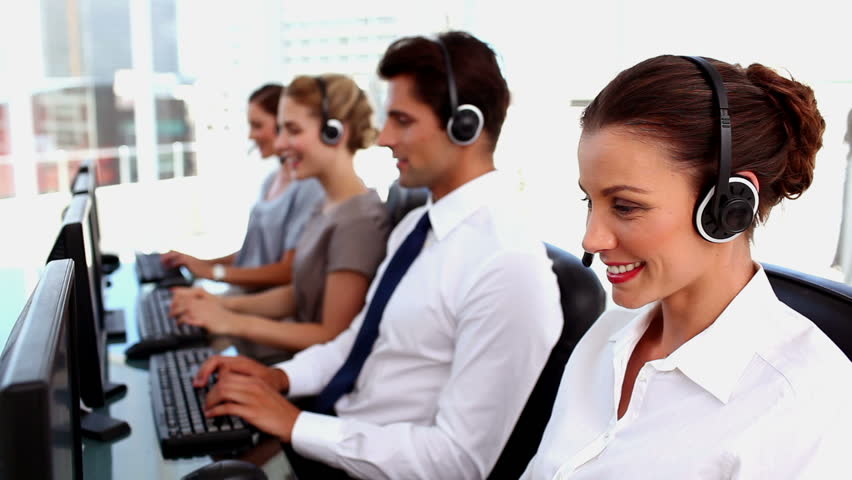 7 Reasons Why Call Center Businesses Need VoIP?
Working at a call center is usually a very busy, demanding job. Employees have to manage high call volume, while providing superior customer service throughout the day. That's why call centers usually have two main goals, in terms of their technology and software purchases:
Making their employees' jobs as easy as possible so they can focus on taking calls.
Creating a seamless, stress-free buying journey for the customer on the phone.
With new technology and software options, call centers now have the option to purchase phone systems that align with these goals. VoIP is the leading phone system for high-volume customer service needs, providing tons of business benefits on an everyday basis.
7 Key Advantages
1. Cost Efficiency
It's no secret that call centers need lots of phone lines – which can be anywhere from several, to dozens, to hundreds of lines, depending on the center's size. A traditional landline phone system is just not an option for many call centers these days, as they would end up paying an absorbent amount for all the lines they need. VoIP is easily scalable, offers unlimited lines, and almost always offers lower rates per line, as you set up more lines. Plus, it's start up costs and monthly rates are almost always lower than traditional phone systems.
2. Fast, Efficient Call Distribution System
VoIP allows call center employees to quickly and efficiently route calls to the correct destination. VoIP now offers tools like call queues and Interactive Voice Response (IVR), which can quickly solve customer's needs or questions like office hours, paying bills, accessing account information, or directing them to speak to the right agent.
This redistributes work for busy agents, which makes them more available to handle more complex customer issues. It also reduces the wait time for customers on the phone, which in turn boosts their satisfaction with your customer service.
3. KPI Measurement
VoIP is the only business phone system that enables you to easily measure business analytics like KPI's. With VoIP, you can integrate your phone system and your CRM. This makes a huge difference when analyzing your company's success. It allows you to access customer data and review your team's performance – such as missed calls, dropped calls, call times, speed to response, and more.
4. Hardware Flexibility and Remote Connectivity
Whether your call center chooses a cloud or hosted VoIP system, VoIP gives your agents the flexibility of using any hardware they work best with. For instance, call center agents are usually more productive and can multi-task more efficiently with hands-free headsets.
Additionally, one huge perk of using VoIP for business is that it allows employees to connect to their business phone line from almost any device with internet access, from anywhere in the world. As long as they have internet access, inbound calls can be forwarded to an agent's personal device. Therefore, if an agent ever has the need to be out of the office, in-office agents can easily contact them or forward calls to them. This allows them to take phone calls in any environment or situation, as well as maintain productivity in the call center.
5. Unified Communication System
VoIP comes with a unified communication system, or a company-wide, all-in-one platform that allows employees to access all of their communication needs in one easy-to-use location. Unified communication systems streamline communication tasks like:
Voice calls
SMS messaging
Emails
Extension mobility
Video conferencing
Meeting scheduling
Screen and document sharing
Business data and analytics
CRM and customer records
Faxing
And more
This unified solution allows for efficient agent collaboration. This communication dashboard gives agents the ability to easily access and share real time information and statistics about their calls. It also allows them to answer questions and help customers in real time, without making the customer wait while the agent retrieves the data.
6. Better Quality Assurance
Call centers operate just like any other business. They need to monitor their day-to-day business operations, facilitate productivity, and analyze their performance. VoIP is by far the best phone system for keeping up-to-date with these analytics. With features like call recording, call centers give managers visibility over successful vs. unsuccessful call strategies. Then, they can improve the quality of calls moving forward.
7. Easy Customization and Scalability
Call center needs can change frequently. For instance, if the company's customer base expands, the center may need to hire new agents or even move locations, or they may need to allow remote work. VoIP is the best phone system for easy, customized changes to the phone system's structure and usage. These plans allow managers to easily add new lines, scale up, or add new equipment at a slim cost. This can be a crucial feature when business demands change, to make sure revenue is not impacted.
Cost of VoIP for Call Centers
Since VoIP uses the Internet to route calls, it saves businesses a ton of money right off the bat. Start-up costs for VoIP systems are almost always lower than those for landline systems. Especially if the call center uses a cloud system, they can virtually use any kind of hardware they prefer. This includes hardware that the agent or the center may already have - such as smartphones, laptops, headsets, and desktop computers.
VoIP plans usually involve a "cost per agent," or in other words, per business extension. Typically, the more agents or extensions you add, the lower cost per line. This makes VoIP the best option for large businesses with many extensions and high call volume, like call centers.
Some VoIP cloud software is designed to be extra conducive for call centers particularly. They allow call centers to save money and get "all-inclusive" business benefits at the same time. Here are a few popular options -
VoIP Software Provider
Starting Cost
Included Benefits
RingCentral Office
$34.99 monthly - includes unlimited users
50 person conference calling
2,500 toll-free minutes
Caller ID and Call logs
Nextiva Office
$20.05 monthly per line
Call logs and caller ID
Unlimited calls
Free local and toll free numbers
Mobile app
Vonage Business Cloud
$27.99 monthly per line (for up to 19 lines)VonageFlow for up to 100 lines
Unified Communication
Mobile apps
Unlimited calls
Free extra SD-WAN bandwidth
VirtualPBX
$26.99 monthly per line
Can service up to 1,000 employees
Custom greetings
High bandwidth
2,500 toll free minutes
2 free phone numbers
Top Features
VoIP plans often come with certain features included, and offer "add-on" features, depending on your business needs. Before purchasing a plan, it's a good idea for call centers to take a look at their options for features. Then, they can sit down with their team and decide which features are a priority.
Take a look at just some of the beneficial VoIP features call centers can choose from:
Auto Attendant or Interactive Voice Response (IVR)
Also known as "digital receptionist" - these features will distribute inbound calls to the correct agents, extensions, or departments using an automated AI voice feature. That way, agents can focus their time on answering questions and providing customer service, while routing calls is taken care of.
Call Recording and Analytics
A majority of VoIP subscriptions include call recording as a feature. This allows agents to listen in on recorded calls to detect patterns and assure the quality and customer service during each call is exceptional.
Live Status
This feature shows whether an agent is on a call or available, in real time. This information is readily available to other agents, so they know exactly who is available to take a transferred call while they are on the phone with a customer.
Automatic Call Routing
In addition to having Interactive Voice Response (IVR) prior to the call, agents can utilize automatic call routing to save the customer's time while on the phone. For example, if the customer reached the wrong department or extension, the agent can easily and automatically redirect them to the correct destination.
Dashboards & Mobile Apps
As mentioned, VoIP comes with an easy-to-use, all-in-one dashboard that allows the agent to access the plan's features in one location. This dashboard can conveniently be accessed from any device that connects to the Internet. It also boosts the agent's productivity and ability to multitask.
SMS Chat
Internal chatting allows agents to exchange information easily throughout their workday. Instead of walking across the office to a different department to ask a question, or hanging up a call with a customer to receive information from another agent, agents can get real time internal information quickly.
CRM integration
A CRM is a crucial business tool today, and call centers are one of the businesses that rely on them. VoIP software and CRM software are often compatible, making it easy to streamline data where you need it. This integration can also manually log customer info as they call, which saves you some serious time in data entry!
Voicemail to Email Transcription
It's important for call center agents to never miss a customer call. However, if they do receive voicemails, agents must respond to them very quickly in order to maintain good customer service. With VoIP's voicemail to email transcription, agents can make sure they're seeing every voicemail promptly. VoIP systems automatically transcribe voicemails and send them directly to your business email.
Top VoIP Suppliers for Call Centers
If you are the decision-maker for a Call Center, it's important to compare suppliers based on the advantages they will offer your business needs - such as large call volume, customer service, easy-to-use interface, and more. Based on common call center needs, here are a few of the top nationwide VoIP suppliers:
Service Provider
Top Advantage for Call Center
Features
Five9
Leading company for cloud-based call center software
Call analytics & dashboards
CRM integration
24/7 tech support
8x8
Customer-centric - easily logs info about customers for superior service
High-grade, built-in security
Integration with computer or laptop
Talkdesk
Highest rated cloud technology in industry
Interactive Voice Response (IVR)
Call recording
Auto routing
Auto dialer
RingCentral
Best all-inclusive VoIP option
Predictive dialing
Fraud detection
Mobile connectivity
Toll-free local calls
Ready to browse and compare your options? 360Connect's free service connects you with the best VoIP suppliers for your call center's needs! We're happy to help you find what you're looking for.