Keeping employees engaged and happy is the key to both the growth of your company and the retention of your staff. Sales and marketing tactics are often discussed and highlighted to help businesses grow revenue. While this is important, the employees operating the activities are invaluable. That being said, in 2021 it's estimated that 1 in 4 employees are looking to quit their job in pursuit of a work-life balance. More than ever there is an urge for employees to job-hop, so why is this happening?
The main culprit: Covid-19.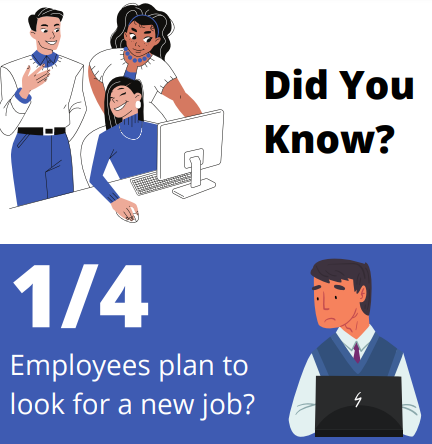 Covid 19's Impact on Employee Retention
Employees come and go, but due to the pandemic, you may begin to or already have experienced a higher turnover than normal. Many employees have spent nearly a year working from home, and it has become their new normal. During this period, they took the time to think about their skill set, goals, and whether their current company could sustain their newfound work-life balance.
An expectation of work flexibility has been created, and employees are willing to change positions, careers, and companies to achieve it.
Fast Stats:
60 percent of employees say they would quit their job if it went back to in-person working only.
41 percent of employees would be willing to take a salary cut if offered a hybrid of a remote and in-office model.
42 percent of employees felt that company culture had diminished since the pandemic began.
Top 5 Employee Retention Strategies
Learn more about the necessary changes your business needs to implement to keep employees happy and on your team.
1. Open Communication
At the heart of each company, communication remains the top priority for employee retention. It is crucial to be transparent and open to your employee's thoughts and suggestions. If you allow employees to speak their minds, you are in turn creating a culture where employees are engaged and want to stay with a company that encourages their ideas.
What you can do to improve employee retention:
Let employees voice their concerns.
Be honest and transparent.
Stay Connected (water cooler talk, zoom calls, teams, etc.)
2. Show Extra Recognition
Whether working remotely, in the office or incorporating a hybrid model, it is vital to ensure every employee feels recognized. In a survey conducted by Making Caring Common, 36 percent of people said they felt lonely frequently during the pandemic. Let the work environment be a place where employees feel recognized and not ignored and lonely. There is no better feeling than being recognized for your hard work, and during trying times, it is what your employee wants more than anything and can improve employee retention.
What you can do to improve employee retention:
Show appreciation.
Provide positive feedback.
Celebrate birthdays.
3. Maintain Team Culture
At a company's core, the employees keep the wheels turning. It is crucial to create a great work environment that celebrates its culture. Employees are typically more engaged if they feel like they are part of a team. However, due to the pandemic, many are feeling isolated.
When working remotely, it can be hard to maintain team culture due to the absence of face-to-face interactions. However, it is your responsibility to make sure employees enjoy their job and feel like they are part of the bigger picture. After all, the average person will devote 90,000 hours to working over a lifetime. When put in this perspective, it is no wonder many will change jobs if the team culture is lacking.
What you can do to improve employee retention:
Encourage casual communication.
Host virtual get-togethers.
Boost employee morale.
4. Be Flexible
Across the country, restrictions have been lifted, and mask mandates have eased. Many businesses have or are opting to go back to the office. There is only one problem, employees are not as reluctant to do so.
Employees are looking to keep the flexible work arrangement that has become their new normal. To accommodate this need, employers may want to incorporate a hybrid working model. It allows employees to feel heard and appreciated, and for face-to-face interactions to increase team culture. Your employees have shown they can produce from their home. Being flexible with their work environment preference can help motivate employees and ensure they enjoy their job.
What you can do to improve employee retention:
Hybrid work model.
Allow employees to work from home if that is their preference.
Trust the work they produce, not the environment it was completed in.
5. Provide Purpose
An alarming 80 percent of employees revealed that they are planning to leave their job because they're concerned about their career growth. Your employee is great at what they do, why change things? Well, while this is true, every employee needs to feel challenged. Incorporating career pathways such as mentoring and training opportunities allows employees to test their skills. It also lets them know that they have room to grow or change course within the company if needed. You are investing in them and providing purpose in their work journey.
What you can do to improve employee retention:
Make employees aware of the different career paths within the company.
Build employees up.
Ensure employees see a future within the company.
How 360Connect Retains its Employees
360Connect believes the first step to retaining employees is to hire great people. From the start of its interview process, 360Connect highlights its core values with candidates to ensure both party's values and aspirations align.
To ensure its valuable employees and team culture stays intact 360Connect creates multiple spaces for informal interactions. Such as group poker, birthday celebrations, and meetups. In terms of keeping employees engaged and recognized, 360Connect continues to: highlight its core values, praises and recognizes employee achievements, and encourages input and feedback.
Because of this, 360Connect can fulfill its mission statement of focusing on the client's success with a team that has aligned goals to make it happen.