Due to inflation and a looming recession, physicians are constantly looking for ways to cut costs. An easy way to do that? Switch medical billing providers.
It's no secret for many in the B2B industry that most businesses are always looking for ways to save money. However, in today's age, you may find that it doesn't take much for a company to switch medical billing providers. With inflation at an all-time high, companies are constantly shopping for a company that can do the same at a lower cost. Nevertheless, that is not the only reason a doctor will be looking to switch medical billing services. Check out the top five reasons physicians switch medical billing providers to ensure you don't make these mistakes.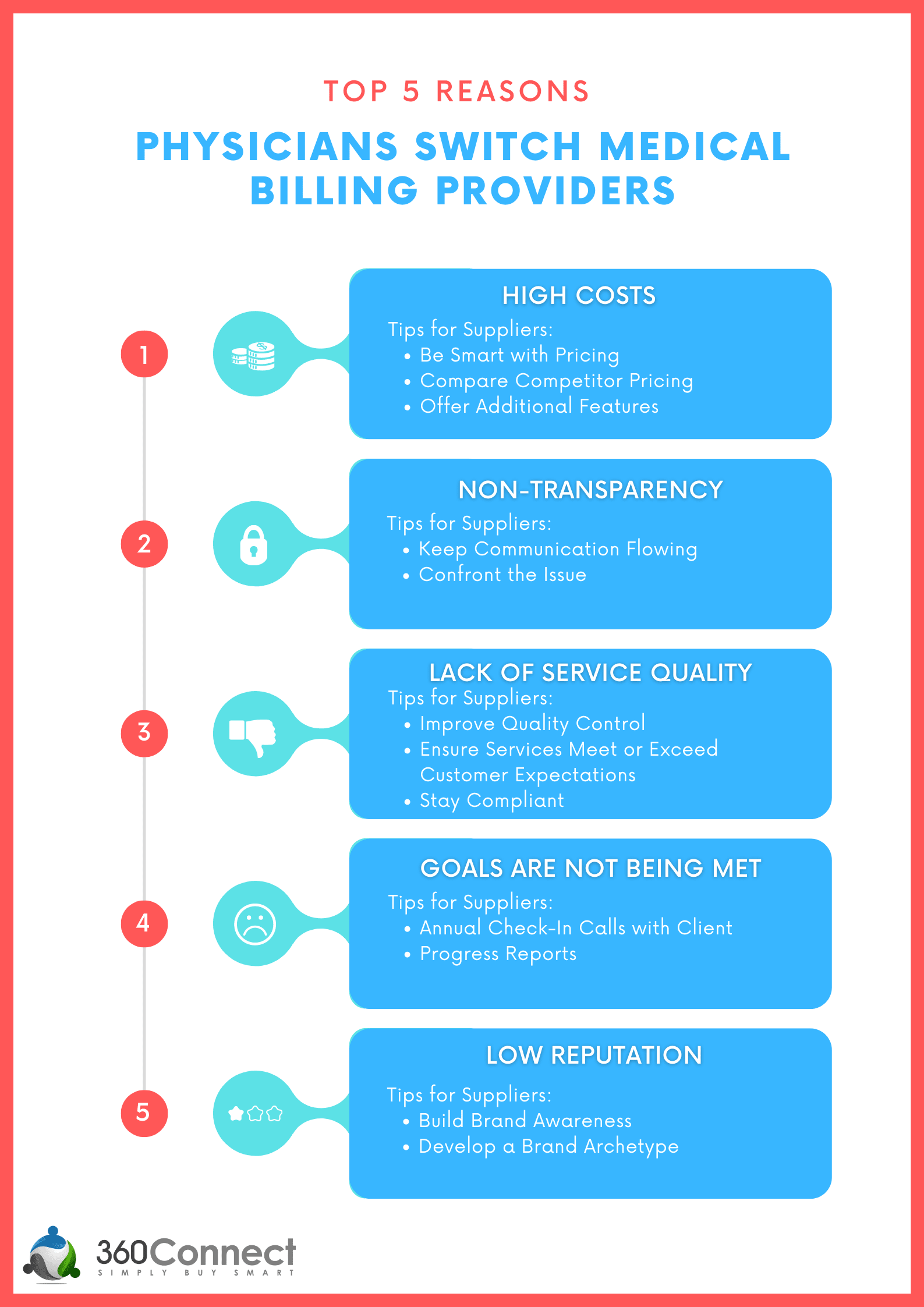 1. High Costs
Everyone wants a good deal, including physicians. Additionally, the reason many switch providers is because the cost has exceeded the services provided. With soaring inflation impacting buyers and suppliers, if a medical billing provider increases its prices without additional perks or features, many physicians will look elsewhere. Seeking services that are cheaper or equal in value with better offerings.
How to Avoid the High Pricing Mistakes that Cause Physicians to Switch Medical Billing Providers
In certain cases, raising your medical billing company's pricing is unavoidable. However, it's all about how you handle it. Look at your competitor's pricing to ensure you're still in the same ballpark. This way increased pricing won't blindside them. In addition, if possible, try to add services or features that do not cost your company any money when raising prices.
Be Smart with Pricing
Compare Competitor Pricing
Offer Additional Features
2. Non-Transparency
Transparency is crucial in any business. Typically, when a physician turns to a medical billing provider, they're looking for a team of experts to take care of their billing and coding needs. However, they're also looking for a team of professionals to relay vital information. When medical practices don't get the results they expected, or they notice more denials or their collections are uneven, they may feel in the dark. Mistakes happen, but a lack of transparency, especially from a third-party company, can be a glaring red flag to many physicians. No matter if your company only makes one mistake.
How to Avoid the Transparency Mistake
Transparency, when implemented correctly, can result in long-term customers. You don't have to share everything that happens behind the scenes, but you should provide enough information to bring peace of mind to physicians. A large cause of transparency issues starts with poor communication. Ensure your team has superior customer service skills, and communication is a top priority within your business. Meaning, confront issues head-on.
Keep Communication Flowing
Provide regular reporting on specific days each month
Confront the Issue
3. Lack of Service Quality
Physicians who are unhappy with their medical billing services will likely switch providers. An ongoing business relationship requires high-quality service. Doctors will likely change providers if they experience repeated invoicing errors and slow response time.
In addition, outdated and inefficient services will often make a clinician switch medical billing providers. Being up to code is essential, and if a company is behind on new protocols, there is a lack of quality within the company.
How to Avoid the Lack of Service Quality Mistakes that Lead Physicians to Switch Medical Billing Providers
Improve Quality Control
Ensure Services Meet or Exceed Customer Expectations
Stay Compliant
Respond quickly by implementing a 1hr or less response time rule for your client service team
4. Goals are Not Being Met
Physicians turn to outsourced medical billing companies to streamline their services, improve workflow, increase profits, and above everything, meet goals. It is common for physicians to switch providers if they do not see improvements within their company and their goals are not being met.
How to Avoid the Poor Objective Mistake
When you onboard a client, ask why hired you and what the goals are for the relationship. Write these down and even better, put it in your database. To avoid letting a client slip due to expectations not being met, ensure you have a process in place to track progress. Whether you send out a report monthly or every other month, it allows physicians to see just how much time, resources, and money they are saving with your business. Oftentimes, it's not just about the goal, it's about seeing progress toward the goal, and that's something your company can provide.
Annual Check-In Calls with Client
Progress Reports
5. Low Reputation Motivates Physicians to Switch Medical Billing Providers
Gaining a good reputation is key to obtaining, and retaining physicians. It is likely that if a physician is already feeling rocky, and your reviews aren't reflecting a good reputation, they will switch medical billing providers.
In 67.7% of cases, online reviews influence purchasing decisions.
An online review is as trustworthy as a personal recommendation for 84% of people.
When a negative article appears on the first page of search results, businesses risk losing 22% of their business.
It's clear reputation matters, and physicians are aware of this. In addition to reputation, physicians may be swayed when those in their industry speak highly through word of mouth of a service they utilize.
How to Avoid the Low Reputation Mistake
To avoid a bad reputation, your company must stay vigilant in providing quality services. There must also be a push to build brand awareness to make yourself known as trustworthy in the medical billing industry.
Medical billing pain points 360Connect hears from physicians that lead them to switch providers
The payout percentage is too high
Requires patient minimums from practice (per/month)
Not cost-effective for sole practitioners
Failure to audit coding submissions
Lack of consistency due to turnover rates
Final Thoughts on Reasons Physicians Switch Medical Billing Providers
As mentioned at the beginning of our article, at the end of the day, physicians are going to make choices based on their budget and the service provided. It's up to your medical billing company to provide quality service and peace of mind to customers so they do not feel the need to switch providers.
Instead of being like the companies, our clients are complaining about, ensure you're reasonably priced, transparent, and timely. In addition, be sure to work with 360Connect, where we connect you with prospects looking for medical billing services that meet their needs. Sign up today!