Are your doors swinging and phones ringing? The ability to generate leads can mean the difference between staying busy or losing out on new business. That's where lead generation services can help.
What is Lead Generation?
Lead generation is the process of attracting prospects and converting them into buyers of your product or service. This is fulfilled through marketing campaigns like content marketing, pay-per-click marketing, and email marketing among others. Additionally, leads can be generated by cold calling, messaging on LinkedIn, or other hundreds of ways. But be honest, does your business have time for that? If not, you may be better off handing the vital task to a lead generation company. After all, outsourcing lead generation generates 43 percent better results than in-house lead generation.
What Can a Lead Generation Company Do for B2B Businesses?
Lead generation is an all-encompassing task. The typical flow includes attracting, converting, closing, and then delighting the lead. During these phases, there are social posts, email campaigns, landing pages, lead scoring, and more just to get a lead. And after all that, you may end up with a low-quality lead, in addition to the fact that 79 percent of your leads won't ever convert to sales. It's no wonder 61 percent of marketers rank lead generation as their number one challenge. However, it doesn't have to be that way.
When you work with a lead generation company, you are provided with a stream of qualified leads going your way. You're still taking part in the lead generation process, but a big chunk (the heavy lifting part) is done for your business.
So, how do you know if your B2B business specifically can benefit from a lead generation company? Take a look at these 7 signs and if you fall into any of these situations, it may be time to take the leap.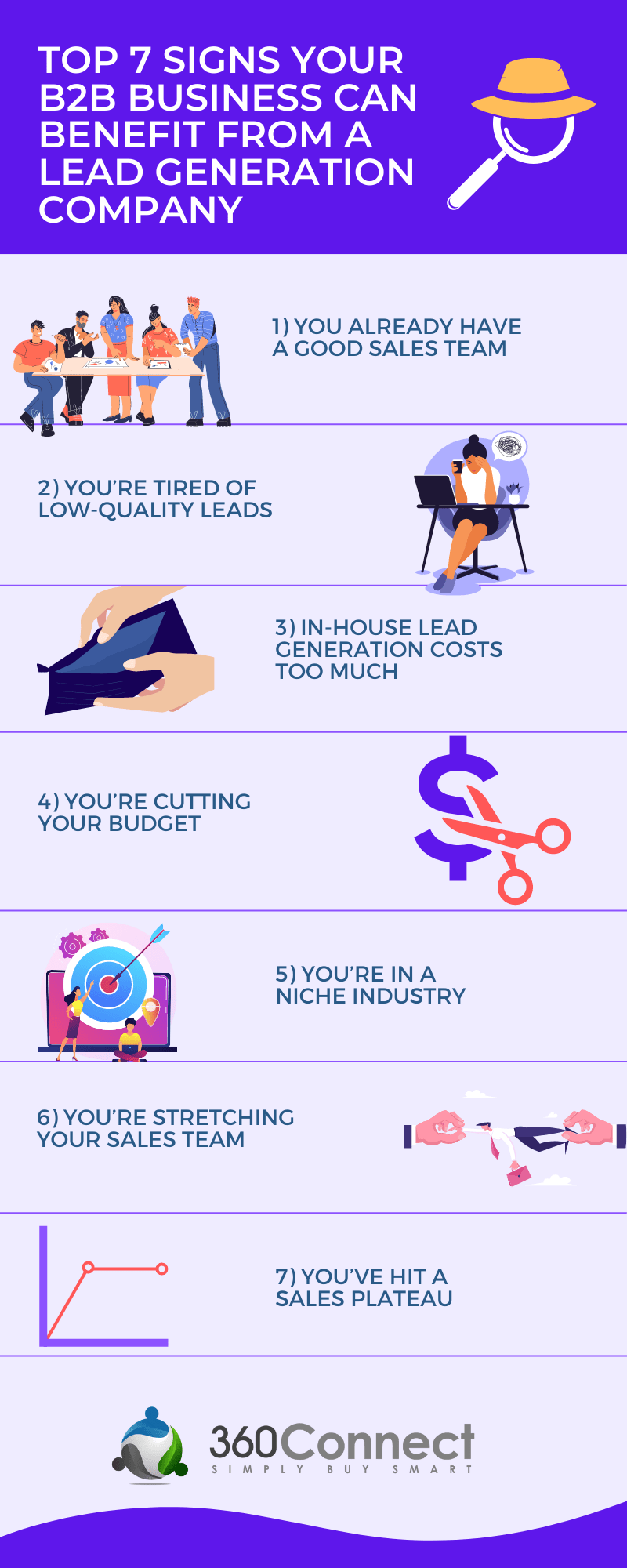 1. You Already Have a Good Sales Team
If you have a great sales team, generating leads for them might be your most important task. You've spent time recruiting, hiring, training, and developing your staff. However, you have a solid team in place, but no phone calls are coming in. In addition, 48 percent of B2B salespeople are afraid of cold calling. And beyond that, only 1 percent of cold calls lead to appointments. So, if you have a skilled team, don't waste it by not providing them with the opportunities to grow their commission and your sales revenue. A strong sales team indicates your business is ready to benefit from a lead generation company streamlining high-quality leads straight to your agents.
2. You're Tired of Low-Quality Leads
When it comes to lead generation, it's about quality, not quantity. If your business is attracting low-quality leads it's time to look at your marketing strategy and who your ideal customer is. When sales agents receive poor leads, they're wasting their time and energy engaging with prospects who are not a good fit for your company. You could benefit significantly from a lead generation company that generates high-quality leads who are actively seeking your products.
3. In-House Lead Generation Costs Too Much
Lead generation is a crucial yet costly and time-consuming activity that few companies have the resources and expertise to take on. In-house lead generation comes with a considerable cost for website setup, software, maintenance, hiring a search engine marketer, implementing paid campaigns, landing pages, and more. Overall it will be a ton of work, resources, and money. Hiring a third-party lead generation company lets you bypass many of these expenses and headaches. So, if you're noticing your lead generation efforts are costly and inefficient, consider it a sign you're ready for change.
4. You're Cutting Your Budget
When it comes to inflation, you're not going to save your way out of it. So, if you find yourself cutting back on your marketing budget, you should instead see this as a sign that you need outside resources. You need more revenue coming in the door, and that's what a third-party lead generation company can provide.
5. You're In A Niche Industry
Being different is great for winning business, but when it comes to marketing and honing in on that specific market, the story is quite different. Lead generation is challenging on its own, but with a hyper-targeted niche, it can be hard to handle for many. If you find it hard to reach your audience and gain the leads you're looking for, it's likely a sign you require outside help.
6. You're Stretching Your Sales Team
Although sales team members are normally known for their go-gett attitude and eagerness to take things on, there does come a point where you could potentially be burning out a good team without realizing it. If you're beginning to notice sales team members are taking on multiple tasks, instead of seeing it as they're able and great employees, you should be trying to alleviate those extra tasks so they can focus on closing sales. Instead, work with a lead generation company so the members of your sales team can maintain a good work-life balance in addition to closing more sales. A win-win for both.
7. You've Hit a Sales Plateau
Are you hitting the same numbers, but can't seem to surpass your own goals? Or maybe your sales pipeline seems to be clogged? If you're experiencing either, you've likely, unfortunately, hit a sales plateau. A sales plateau, like any other plateau, is a sign it's time for a change.
Pros and Cons of Working With A Lead Generation Company
| | |
| --- | --- |
| PROS | CONS |
| Team of Experts | No Guarantee the Lead will Convert |
| No More Cold Calling | You Pay for Good and Bad Leads |
| Consistent Stream of Leads | You Cannot Monitor Everything |
Benefits of Lead Generation Companies 
Improved lead quality
Reduced Cold Calling
Increased Revenue
Enhanced Market Presence
Cost-Effective
It lets your sales team focus on closing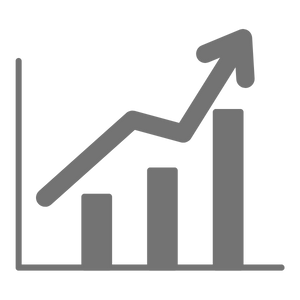 Lead Generation Company Pricing
Lead generation companies vary in their pricing model, but the most common pricing model is cost-per-lead. Cost-per-lead, as the name implies, is based on the number of leads generated for your business. The general cost is between $25 to $500 per lead depending on the industry. 
Final Thoughts
A lead generation company can build your B2B business the trust, visibility, credibility, and lead volume you've been searching for. If you're experiencing any of the 7 signs mentioned in this article, we recommend you look into a lead generation company.
Ready to Boost Your B2B Business with Lead Generation?
At 360Connect, our team is focused on the success of our suppliers. When our customers succeed, we succeed. This is why we're ready to generate leads specifically looking for your goods or services. So, if you're ready to boost your business, gain quality true-intent leads, and benefit from a support system dedicated to your success, sign up today!