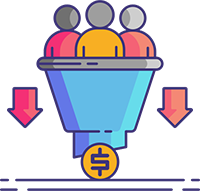 Find leads targeted to your business needs
Get started by viewing buyer demand in your area
We've grown more over the last 10 years than we grew in the previous 20. We've used several different lead generation companies and 360Connect's leads have always been the strongest of any we've ever tested.
James E., Parks Coffee
We struggled to call the prospects fast at first, but after training with 360Connect, we got our call times below 10 minutes and are now growing by 25% per month.
Sabrina C., Satellite Shelters
We love 360Connect's seamless integration with our CRM system (Salesforce) and the personal nature by which our account is handled by the team at 360Connect.
Mark M., Vanguard Modular Building Systems
360Connect is so easy to work with and I can count on them to help grow my business. I know that as long as I do my end of the work and try to close the deals, it's a win-win.
Patty G., Medical Billing Concepts
These are leads that I would never find on my own. I view 360Connect as my Business Development Officer. They do all the grunt work for me, finding the leads and qualifying them.
Talley C., Provident Commercial Financial
360Connect delivers on what they promise - I trust 360Connect as a functional, reliable partner. They have 100% benefited our company as we experience very high close rates from their leads. I always know my money is well-spent with them!
Tom M., TGM Copiers
360Connect provides us with the opportunity to get leads from companies we wouldn't have found on our own. Their program leads to additional business deals for our company every month and they bring a lot of value to the table.
Jim S., Mid Ohio Strategic Technologies
360Connect is our primary growth engine for acquiring new clients, which leads to revenue and profit.
John B., Forest Recovery Services
Frequently Asked Questions
Great question. We source true-intent buyers as they're searching for business products & services via Google, Bing, Yahoo, and other commonly used search engines. We launch 600+ monthly PPC keyword campaigns.
For example, when a business is looking to rent a storage container, what do they do first? Search the internet! They will type in a collection of keywords, such as "Rent a Storage Container." Then a list of relevant results will pop up, and often 360Connect is positioned at or near the top of search results. We offer the prospect free quotes, plus valuable assets like "buyer's guides," to help guide them with their purchase. If they are ready to buy, the prospect will use 360Connect to get quotes. If they match up with your profile (your geo and product/service offerings - in this case, "Storage Container Rentals"), we'll send them directly to you!
Yes. They are very good. Why? There's several reasons!
Our leads are predominantly businesses, and sometimes homeowners, that are looking for the products and services that you offer. So, this is not a list of names or old data. It's real-time buyers - who are actively looking right now.
We care a lot about lead quality. We use advanced tools, like predictive lead-scoring algorithms & phone verification, to immediately verify buyer information within minutes. Then, we send you the buyer data quickly, so you can follow up and present your products and services to the buyer.
Current clients who follow our best practices average about a 10% close rate (and some even better) and earn $7 - $15 in revenue for every $1 spent with our service.
We're not 100% perfect, but we do prioritize your success! So we've developed a simple and fair return policy in case you run into a "bad lead." Here's how it works. 360Connect guarantees that each buyer quote request will:
Have valid contact information (name, phone, e-mail)
Match the product profile at the time received
Match the geographic profile at the time received
Will not be a duplicate from 360Connect in the same 30-day period
Will not be from a direct competitor
If the request does not meet the requirements above, you may submit a request for review within 10 days of receiving that lead. Then, we'll review the submission to confirm the lead was "bad," and if so, we'll issue a refund to your account.
In sum, the price per lead depends on your product or service offering(s). Our leads range from $10-$600/per lead.
We operate based on a monthly minimum commitment, BUT we only charge you for leads you actually receive! Just ask your sales representative for more details about our pricing model.
In our experience, success is not an overnight thing! We provide excellent leads. But at the same time, the rules of sales and marketing still apply. You have to put in the work to be successful. We expect our clients to follow best practices, such as calling fast, calling often, calling everyone, tracking your results, and not giving up early on prospects that sometimes have a long sales cycle. Since we're focused on your success (and it's our mission), we invest a lot to make sure you're successful, and we ask that you make sales excellence a priority. The good news is that we provide valuable sales assets and one-on-one coaching to help you maximize your efforts.
We're committed to following through on our promise to provide leads that are targeted to your geo. We build a custom profile for every client, giving you lots of profile options to choose from.
In terms of your sales territory, we allow you to select any and all counties in the United States that match your sales territory. You will only see leads come in from a county that matches your profile.
In terms of your product or service offering(s), you can select specific products to offer leads, like "copiers" or "storage containers." Then, you can further filter down your leads by picking from a suite of options, like "Rentals only" or "Sales only".
Profile options will vary by category. Your sales representative will be happy to review options with you!