Are you looking to buy a storage container soon? You may have noticed the prices are higher than they used to be and maybe you're thinking it's better to wait until prices drop.  In our opinion, now is the time to buy. 
Covid-19's impact has been felt across all industries, especially storage containers. Storage container inventory is low, but the demand continues to rise. As of February 2021, the price of shipping containers rose 63 percent, according to Freightos Baltic Index. What does this mean for you? Whether you are just browsing at the moment or looking to make a future purchase in the coming months. We recommend buying now before the price and wait time for shipping containers continue to rise.
What Caused the Storage Container Shortage?
There is a cause and effect to every action. Due to the pandemic, the supply chain of containers was greatly interrupted due to factory shutdowns and operational bottlenecks. And whether due to storing, remodeling, or supply stocking, there was a visible increase in purchasing. Americans alone increased impulse spending by 18 percent during the pandemic. How did this impact the storage container industry?
The increase in purchasing led to a flood of orders for new containers. With 90 percent of shipping containers from China, many who could get a hold of containers began stockpiling them rather than distributing them to the market. It has caused a game of catchup where the demand is exceeding the inventory of containers. And those in need of a container are noticing the price rising and the wait time extending.
Why You Should Buy A Storage Container Now
There is no doubt that storage containers are the ideal storage space for both commercial and residential needs. Storage containers are seen as the generally convenient and affordable option. Their low cost and portability make them perfect for office buildings, classrooms, restaurants, and more.
Containers are a hot commodity and market forces are driving prices up. Because prices are high, you may be on the fence on whether to buy now or wait. In our opinion, if you need one, buy or rent it now. Here are a few reasons why we believe it's best to order your container right away:
Increased Demand in Storage Containers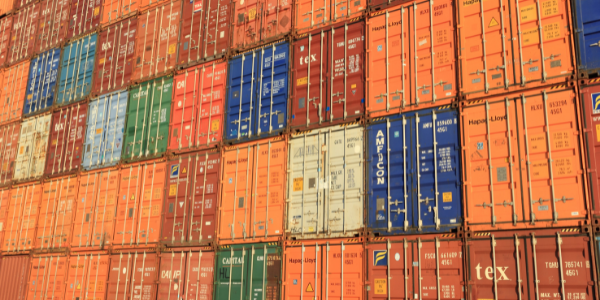 The demand for storage containers is at a record high, and industry experts believe the demand will continue to rise in the coming months, and even years to come.
Additional Information:
Container Suppliers (who you buy from): There is an increased demand from container suppliers to have containers to rent and sell.
Cargo Transportation: There is an increased demand from those who need additional shipping containers to carry and transport items.
Hoarders: Because there is a demand for shipping containers, those in possession are holding on. It is causing delays for others.
Low Inventory in Shipping Containers
High demand for shipping containers has led to low inventory for many storage container suppliers. Many are sitting on roughly 2 to 3 weeks of supply. Shipping containers continue to become scarce, and there's no indication from manufacturers that there's going to be an increase in shipping container production.
With increased demand and low inventory, you can do the math. Now is the time to act on buying a storage container.
Additional Information
Inventory of new and old containers remains low.
Many containers are piled on cargo ports.
Low inventory has caused major delays
Longer Wait Time for Shipping Containers
Getting the shipping container to the buyer is a supplier's main goal. However, with the increased demand for storage containers, and many stashing containers. It has led to longer wait times.
Before the pandemic, it was not unusual to get a container delivered within a few days. Now we're hearing that in many areas it's taking between 3-4 weeks to have your container delivered and in other areas, over 1 month! If you require a shipping container in Summer or Fall 2021, we recommend buying now.
Low Inventory + Increased Demand + Increased Prices = Longer Wait Time
Why Not Just Wait It Out?
Prices go up and down. You should wait it out. Right? Wrong. Industry experts agree that the current pricing of shipping containers isn't going to drop soon, and that may be the case for the next year. With the demand staying strong, prices will continue to rise, and buying now is the best option for those in need of a new or rented storage container.
Let Us Help You Find A Storage Container Supplier
At 360Connect, it is our mission to match you with a supplier in your area that can help fit your needs. We are dedicated to our customers and stay on top of industry trends to ensure they are always up to date. Contact us today to get started on your storage container quote.