Storage industry leaders are finding themselves in a unique position during the Coronavirus crisis. Businesses of all kinds suddenly have an unprecedented need for containers as they scramble to respond to the pandemic and continue to plan operations for the rest of the year. In fact, storage container demand has more than doubled on 360Connect.com since mid-March.
Why is demand surging? Well, during this time, industries who typically use containers, like construction, are still in the market. But now there's also demand from new markets who need containers to continue to operate. This is resulting in tons of new opportunities for companies who provide storage solutions to step in and help local/national communities survive this economic crisis.
After reviewing real-time buyer data, we've noticed new demand trends in the following markets.
Residential
Demand for portable containers at residential sites is climbing. This may be because Americans are bracing for disaster, causing them to prep with "emergency storage." It's also likely that due to "shelter-in-place" orders and loss of residential income, people are less willing to pay rent at off-site self-storage facilities. They'd rather store items on their property and save on monthly storage costs.
Additionally, keep in mind that millions of American workers have had to quickly shift to working from home, leading to tons of requests for ground-level offices and containers. For instance, over the last several weeks many people have been looking for containers for at-home workshops and studios.This trend is likely to persist throughout the year. Thought leaders expect people to continue taking a hands-off approach to public interactions for the foreseeable future. This includes going to offices, colleges and universities, and other "everyday" places. Households will likely continue to look for portable storage solutions throughout 2020 and beyond.
Refrigerated/Cold Storage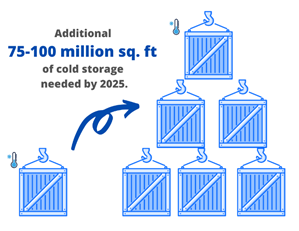 Since the onset of the pandemic, grocery sales have skyrocketed, forcing the food production industry to find cold storage containers immediately. This change is projected to hold still, as the impacts of the pandemic last over the next couple of years. CRBE recently published a study on the food industry's demand for cold storage. They found that over the next 5 years, an additional 75-100 million square feet of cold storage will be needed to meet the demand for in-store and online grocery sales. Additionally, as restaurants continue to feel the impacts of the
pandemic and lose dine-in customers, they will require more cold storage to maintain their delivery and take-out models.
Healthcare
The healthcare industry is finding a newfound, sudden need for storage products. Healthcare centers have been on the front lines battling the pandemic and are inundated with patients. Many now need to put up new hospitals and facilities to meet the challenge. They are also in dire need of storage for test kits and personal protective equipment (PPE). Additionally, facilities are using containers and ground-level offices for pop-up testing centers and overflow patient space. Here is an example of a real pop-up hospital blueprint using a 20-foot container: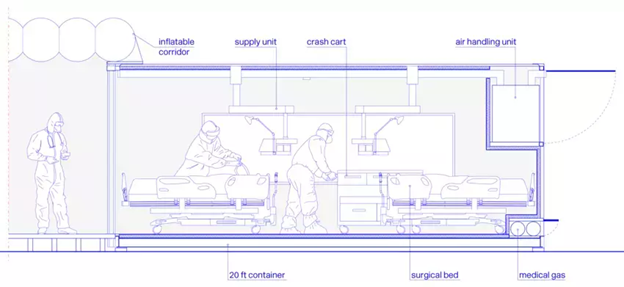 Other Industries
There are tons of businesses across America that need storage more than ever to keep their businesses up and running.
Although big box retailers typically use containers, now they're selling storage container inventory more quickly and need additional back-up storage. For instance, revenue for Target and Walmart has increased due to the surging demand for their products. This in turn is driving demand for more storage at their various locations.
Additionally, many businesses are facing the challenges of shutdowns are shifting their business models to stay afloat. For example, distilleries have started producing and distributing hand sanitizer to reciprocate for low sales. They're renting storage containers to house their operations and store materials.
Government agencies (local, state, and national) have needed to put up buildings or gain additional storage space almost immediately to respond to the emergency. For instance, 360Connect.com has seen lots of requests for containers from city EMS, fire departments, and police stations during COVID-19.
Prisons are even using storage containers to combat the spread of COVID-19. One prison in the UK is recently built 500 new prison cells with shipping containers. The US will likely follow suit if the infection rates keep increasing.
As you can see, the storage container community is being called upon to help businesses and homeowners all over the world manage the crisis in a variety of ways. Thought leaders expect the impacts of the virus to extend several years.
The time is now, not only to grow your business but to support and help by offering your storage solutions. We trust that you can and will. For more insight on how to adjust to the Coronavirus crisis, check out our blog on "virtual selling." Best of luck!