A Commercial Copier Buyer's Guide
What to Know Before you Purchase an Office Copier
Office copiers are a $39.4 billion industry, with revenues expected to increase 4% annually. With 2,590 businesses operating in the copier and office equipment wholesale market, it is a highly competitive industry. Copier manufacturers keep improving the product with more advanced features so that you can complete just about any task you need. From stapling to sorting to double-sided copies, the sky is the limit when it comes to today's copier capabilities.
But with so many options out there, it can be challenging to know which copier is the right fit for your business. A copy machine that works for one business may not work for another. We've written this guide to inform you about helpful factors to consider before buying a copier.
Here are a few main questions to ask before making a purchase:
Do I want just a copier or a multifunction printer?
How much do I print and copy?
What speed copier do I need?
The Commercial Copier Buyers Guide will discuss:
Copier Volume
Copier Speed
Multifunction Printers
Copier Features
Leasing vs. Buying
Copier Pricing
Top Brands
Once you get all your questions about photocopiers answered, we can put you in touch with reputable copier sellers in your area who can give you free price quotes.
Copier Volume
The volume that you will be printing is one of the strongest indicators of what kind of copier you will need. If you have a small business that only makes 500 copies a month, you're not going to need a giant, commercial-grade copy machine. On the other hand, if your business is making 50,000 copies a month, a small copier from your local office supply store is not going to cut it.
If you have no idea how much you print, here are some ways to track your monthly quota:
If you already own a copier, the device will have an internal counter. Think of it like an odometer on a car. Somewhere in the menu options, you will be able to display the total number of copies and print jobs.
If you use a print shop for your copies, refer to your receipts to get an estimate of how much volume you copy in a month.
If you still aren't sure, below is a sample chart to show you how many copies the average 360OfficeEquipment customer makes in a month.
As you can see, 86% of our customers make less than 10,000 copies in a month, and about half make less than 2,500 in a month. If you aren't sure how to calculate your volume, hopefully, this will give you an idea of a small company's numbers.
Keep in mind, your estimate does not need to be exact. Don't break your neck trying to figure out the exact number of copies your office makes. Just reach an approximate estimate, and then increase it by 15% to account for a margin of error and future growth.
Copier Speed
Copiers are ranked by the speed in which they can print copies per minute (CPM) or print per minute(PPM). CPM and PPM mean the exact same thing, so keep that in mind if you find the terms used interchangeably in your research. The print speed you'll need is proportionate to the monthly volume you print. Your estimated monthly volume will help you determine what kind of copier speed you'll need.

The chart below lists copier speeds and typical uses for that speed.

The majority of small businesses will be satisfied with 15-35 ppm. Keep in mind that these speeds are based on single-sided copies of typical size paper. If you will be doing a lot of double-sided or large printing, the speed will be slower.
Multifunction Printers
Nowadays, copiers can do a whole lot more than just make photocopies. They can be your one-stop shop for printing, scanning, faxing, and many other additional needs to help your business run more efficiently. If you need your photocopier to do more than just make copies, you are going to want amultifunction printer (also known as an all-in-one printer). A multifunction printer is a fancy word for a copy machine that does more than just make copies.
Mistakes to avoid:
If you buy a multifunction printer, don't waste money on fax machines, scanners, or desk printers.
Don't pay extra for features you don't need. However, keep in mind that many copiers have many features that won't cost extra.
Make sure the printer is compatible with your current network.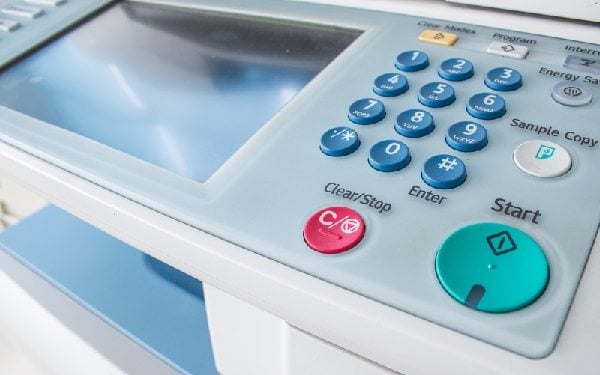 Copier Features
The copier has come a long way since Xerox's humble Model A was released years ago. Now copiers come with all kinds of advanced features. Some features that multifunction printers or all-in-one copiers offer include:
Printer
Scanner
Fax
Email
Double-sided copies
Collate
Image editing
Security
Energy saver
Feeders
Sorting
Finishing options
Paper supply
Printer
Having a reliable printer for your business is as essential, if not more essential, than having a copier. Many businesses now rely on their copy machine as the communal office printer. Most multifunction printers can be connected to your network, allowing staff to send documents to the copier right from their desk.
Some advantages of using a copier as a printer include:
Saves space – one less big piece of office equipment
Saves money – no need to purchase printers and replacement inks
Saves hassle – can select print features from your desktop (like printing double-sided)
Saves time – with copy features like sorting and stapling documents
By using the office copier as the printer for your staff, your team's desks will be freed from the clutter that comes with having individual printers. You can utilize all the features of the copier right from your desktop computer, including stapling, double-sided printing, hole-punching, etc. Buying less office equipment and using the time-saving features of a copier could ultimately save you money.
Scanner
There are often instances when your business will need a scanner. A multifunction printer can also double as your office scanner. By feeding your document into the tray, you can send the scanned image to an email address or straight to your desktop, depending on your copier's features.
Advanced scanner options for multifunction printers include:
Optical Character Recognition (OCR)—software that converts your scan into an editable electronic document
Dual imaging document feeders – provides simultaneous scanning of the front and back of a document
Fax

Email still hasn't completely eliminated the need for a fax machine. There are some instances where you will need to send a fax. Fortunately, with a multifunction printer, there is no need to have a separate fax machine. Multifunction printers can send and receive faxes. Depending on your network interface, some multifunction printers can also send a fax from a computer.
Email
Most multifunction printers have email capability. Generally, there is an address book feature built into the machine's software. You can enter and store frequently-used email addresses into the machine for quick recall. You can scan documents and send them to an email address.
Double-sided copies
The ability to print double-sided copies is a common and convenient feature. A large document printed double-sided uses half the amount of paper that would be required for one-sided printing, saving you money and sparing the environment.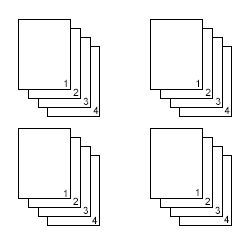 Collate

If you're not familiar with the word collate, it's a pretty simple process. It's basically a way to determine what order your pages will print when you are printing multiple copies of a multi-page document. By collating, each copy of the multipage document will print in its original order
Image Editing
Some copiers can edit the document you're scanning before printing. Some of the edits that can be made to your document include:
Automatic page numbering
Watermarks ("Confidential," "Copy," etc.)
Date stamps
Image rotation
Shrink multiple pages to fit on one
Security
If your multifunction printer will be receiving confidential faxes or have restricted access to only a few, you will want some built-in security. Some devices can be locked and require a code for use. If you are receiving confidential faxes, the faxes can be stored and locked until the code is entered.
Energy Saver
Copiers consume a decent amount of electricity. With an available Energy Saver mode, the device will automatically power down if it's not used for a certain amount of time. The benefits of this feature include:
Reduce your utility bill
Decrease the amount of wear and tear on the device
Reduce the carbon footprint on the environment
Feeders
You're probably familiar with lifting up the cover of a printer-copier, setting your document down on the glass, closing the cover, and making a copy.

But what if you need to make copies of a document that's 100 pages long?
With an automatic document feeder (ADF), you set all the pages in a tray. The feeder pulls all the pages, copies the pages, and prints the copied pages.
What if you need to make a lot of double-sided copies?
A recirculating automatic document feeder (RADF) flips the pages inside the machine, eventually scanning both sides
A Dual Image Document Feeder (DIDF) will scan both sides of the page at the same time instead of flipping it inside of the machine. This feature is faster and may come at a higher price.
Sorting
Some copiers offer a sorting option. If you're printing multiple copies of a multi-page document, the copier can print all the copies into one tray, but each group of pages will be offset from the next group of pages, making it easy for you to identify each group of copies.

Finishing
Some copiers have advanced finishing options. Depending on the finishing options your machine has, there may be an extra cost. Some of the available options include:
Staple
If you tend to print multiple copies of multi-page documents that need to be stapled, you're going to want a copier with a staple option. The copier can staple all the copies of your documents together for you. It's a fairly common feature that's convenient and saves you time.
Hole Punch
If you regularly print documents that need to be hole-punched, then the hole-punch feature will make your life a lot easier. By having the copier hole-punch your documents, you will save time and frustration. No more misaligned holes or uneven pages.
Folding
If your organization prints a lot of pamphlets that need to be folded, some copiers do have a folding option available.
Saddle-Stitch Binding
If you are looking for an even faster way to finish those pamphlets, saddle-stitch binding may be worth looking into. Saddle-stitch binding not only folds your documents, but staples them into booklet form. This is not the most common feature but is available on some models. If you will need saddle-stitch binding, be sure to mention that when you speak to a copier supplier.
Trays
Most copiers have multiple trays for different kinds of paper. Each tray typically holds at least 50 to 100 sheets of paper, and at most 3,000 sheets of paper. Many office copiers have one tray designed for a fixed size of paper and another tray that is adjustable according to your print job
If you frequently need to print different size pages or different paper stocks, you may want multiple trays to accommodate for different sizes or types of paper, including:
Standard size
Letterhead
Legal size
Different paper stocks
Transparencies
But the number of trays will completely depend on the needs of your business. For example, if you outsource the printing of newsletters for your organization, it may be more cost-effective to purchase a copier so you can do the printing in-house. Discuss your printing needs with a supplier to figure out what kind of paper trays you will need.
Copier Prices
As you may have seen in the Copier Features section of this Buyers Guide, copiers come with a wide range of features. The size, speed, and available features of your copier will affect the price. Think: Faster + More Features = More Expensive.
While it is difficult to give an exact price estimate without knowing your specific situation, in the chart below, we've provided some ballpark estimates of copier costs by copier speed.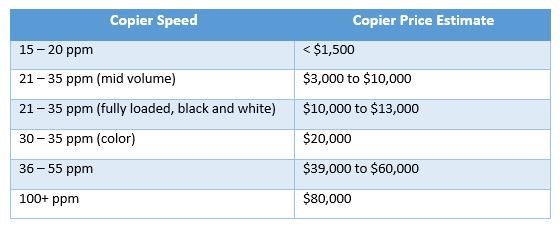 Leasing vs. Buying
Purchasing a copier outright can be an expensive upfront cost that you may not have the funds for. However, by purchasing, you own the unit and can use it for many years to come. This may ultimately prove cheaper than if you had leased. However, you will be on your own for repairs and likely won't be able to upgrade as frequently as with a leased unit.
Leasing a copier can ultimately cost you more than if you had purchased the unit outright. By leasing, you won't have to pay as high of an upfront cost. Instead, you pay a monthly rate. Some leases charge per-copy made and may include monthly minimums. Other leases allow you to walk away at any time. One advantage to leasing is that there is often a maintenance agreement if anything goes wrong with the copy machine. Often times there is also an option to upgrade to a newer unit, which can be nice since the technology is always changing and improving.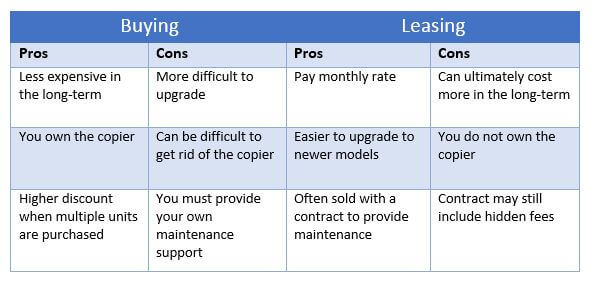 Ultimately, whether or not you choose to lease or buy a copier will depend on your specific needs and financial situation. A reputable copier dealer can help you assess the situation of business and help you make the right choice.
Copier Brands
Before making your commercial copier purchase, it's best to do some research to figure out which top copier brand is the best fit for your company. Here's our list of the top 10 commercial copier brands.
Xerox
Sharp
Canon
Ricoh
Konica Minolta
Kyocera
Toshiba
HP
Lexmark
Dell
Ready to buy a Commercial Copier?