If you sell business (B2B) office equipment, hardware, software, or similar products, now is a better time than ever to consider the profitability of entering the access control market. The demand for access control systems for American businesses of all sizes is climbing rapidly in recent years, as physical and cyber-security threats are on the rise. Internet security threats to businesses have risen by 25% just this year, as more and more businesses are "going digital" across all business functions. In fact, with access control and other security hardware suppliers innovating new solutions and technologies, a projected 20% of American businesses will go mobile with their company's security system by 2020.
The access control market's numbers line up with this finding. The access control market is expected to grow from $7.5 billion in 2018 to $12.1 billion by 2024, at a whopping annualized rate of 8.24% from 2018 to 2024. There are many reasons for this upswing – including increasing crime rates globally, widespread technological advancements in security systems and across all business technology, and the prevalence of cloud-based security systems as a trend. Not to mention, North America is expected to be the largest market for access control systems by 2024.
Here, we've outlined several reasons why moving into the access control market can be a hugely lucrative business opportunity in the coming years and beyond.
Why enter the Access Control market?
For a long time, the target consumer of access control seemed to be reluctant to change security systems in their business that already worked (not to mention, security threats – physical and cyber – were not as massive as they are today). As a result, access control had a slow start – but now, that isn't the case. The consumer market for access control systems is skyrocketing.
What's the reason for this? Well, while physical security threats may not demand access control as a clear-cut solution, cyber-security threats surely do. Businesses have become hyper-focused on cyber-security and digital intelligence – with a newfound focus on the IT department – so much so that these factors are starting to drive business buyers' decisions. Digitized security systems are the new norm, which means suppliers in the industry are profiting.
Not only is cyber-awareness driving new purchases, but user-experience with access control is contributing to profitability as well. Businesses are becoming aware of the plethora of advantages that digitized systems are offering employees, from productivity to convenience with smartphone-compatibility. Many systems are an all-in-one hub for credential entry, so employees don't have to resort to different methods to access each work function. This push towards "smarter," more digital workplace ecosystems has just started, and will likely continue to grow for a long time.
For instance, in just the past year, SDM Magazine reported that Synergis – a supplier – says they grew by 30% because of the upswing in B2B digital security systems. Hank Monaco, VP with Johnson Control Building Solutions said that they "…are continuing to see good upwards momentum in . Some of it has to do with some of the abilities we now have to provide management in the cloud. Our customers certainly like that."
Luckily for suppliers already selling B2B electronic and hardware equipment, adding access control to your company as offering is fairly uncomplicated, in that it doesn't require you to change your business or brand model, and business competition is at a low compared to what is projected in years to come. According to IBIS World Report, while start-up costs in the industry (in terms of equipment purchase) can be relatively high, product costs are actually declining in recent years and revenue reports show the earning potential and ROI from making the move.
Which industries are driving demand?
The key buying industries of access control as of 2019 are:
Construction – companies purchase access control systems to install into building projects they're working on.
Manufacturing – especially manufacturers of technological equipment, use access control to prevent theft
Financial institutions – own valuable monetary assets like safes and ATMS that need high security
Hotels and Food/Beverage – often use digital systems for card-key access
Law firms and government agencies – need to protect sensitive and confidential documents
Healthcare facilities – need to protect and secure medical records
In terms of major market segmentation by demand, the commercial market makes up 61.6% of demand, government market is 18.6%, private property (or residential) market is 18.4%, and 1.4% pertains to "other," according to the latest IBIS World. Report.
Which products are in demand?
There are several forms and varieties for access control customers to choose from, but from a product perspective, there's three main varieties – card-based systems, audio systems, and keypad systems.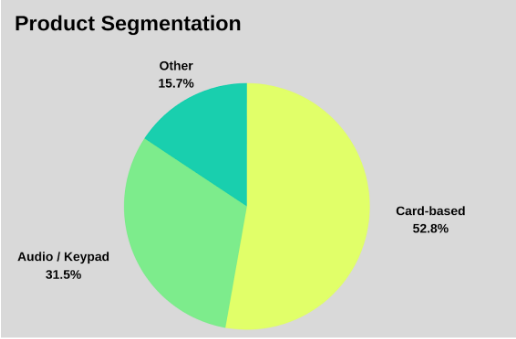 Card-based systems take the role in terms of contributing the most revenue – 52.8% – to the industry. They generally operate with a scanner that reads either a barcode or chip on the user's card. One of the reasons they're so popular among buyers is because they can be used in a wide range of industries. They can work with computer systems, doors, ATMs, safes, and more. From 2013-2018, this product segment's share of industry revenue increased, due to businesses modernizing their access systems and realizing card entry is more convenient and faster than keypad entry. As many as 250 million units will be shipped to companies by 2022, according to ABI Research.
Keypad and audio systems make up a combined 31.5% of industry revenue. A keypad system normally has a touchscreen or analog pad with digits, symbols, or letters. While such systems can be quite advanced, most are simple and are used in residential, commercial and government facilities. However, these devices are not as popular with consumers as card systems because they can be bypassed by intruders. Additionally, technological advancement in the industry is creating newer, more convenient systems, which might result in keypad systems becoming outdated in upcoming years. Accordingly, sales have decreased over the past five years.
Audio systems consist of a telecom or phone, which can be used to contact security or someone else with the authority to open the system. Again, with these systems, technology is replacing them due to the possibility of audio being mistaken for another person's voice, which causes businesses to spend more on video surveillance.
Less common types of access control include biometric systems, which take fingerprint scans, facial scans, signatures, etc. of the person requesting access. While they only make up about 15% of industry revenue, technological trends suggest they may take over more of the market share in upcoming years and may be a good investment for your business.
Where is the industry moving and what other opportunities are involved?
The access control industry is expanding, both in terms of product technology and revenue. This is partly due to the fact that B2B buyers are turning to web-based, digital solutions more than ever before.
We can expect the "next generation" of access control technology to be even more advanced, especially as "smart" digitization rises across both commercial and residential sectors. In other words, our lives are becoming more and more driven by automated technology, which makes this industry a very promising one to go into now.
As mentioned, though biometric systems only make up 15% of the industry at the moment, that number is expected to grow and the cost it takes to adapt those systems to your inventory is expected to decline, making it a potentially very profitable opportunity.
Along the lines of product technology and the booming demand for business security solutions, entering the access control market can also open up a world of opportunity in terms of product offerings. In other words, adapting access control as a main product line would also allow you to open up your business to other similar technological solutions. In doing so, you'd be able to offer a unified security and tech solution for a company. The more you can cross-sell and offer a "one-stop shop" platform to your customers, the more you add to your revenue.
There are tons of security and tech solutions you can add to your product repertoire, including:
Visitor Management – tech-based monitoring of the visitors entering your building
Identity Management – security solution to identify users of a technology resource
Video Management – video surveillance asset that provides unlimited scalability and flexibility
Location Services – gain awareness over location of employees or business assets at all times
Incident Management – automate and analyze document-related incidents and prevent risks moving forward
Command & Control System – manage building alarms and oversee property activities from a single window
Especially if you're already a provider of business software, technology, or hardware – access control is an untapped market full of business opportunities and revenue!
If you're ready to start accepting access control leads, the number of quote requests we receive monthly is rising. Reach out to us to connect and let us know how we can help you grow revenue.