If you work in the construction industry (particularly, metal and steel building sales) what you might not know is that online purchasing of metal buildings is trending upwards. In the past, buyers who were looking to build typically reached out to suppliers through more traditional methods, like phone calls. But research is now showing that the people making up the prospective market are browsers before buyers. What does this mean? The way people are preferring to buy products and services is changing. They want to "shop around" online and compare several options before making a final decision.
How are metal building companies affected by this change? Well, they're directly affected. E-commerce is now a top buying trend for both B2B and B2C markets. Metal building sales are implicated in both of these categories. So, we now know that the target market for steel and metal buildings is starting their search online.
How do you leverage this change as a supplier? Let's first take a look at the current metal building market, which is growing at an annualized rate of 1.5%: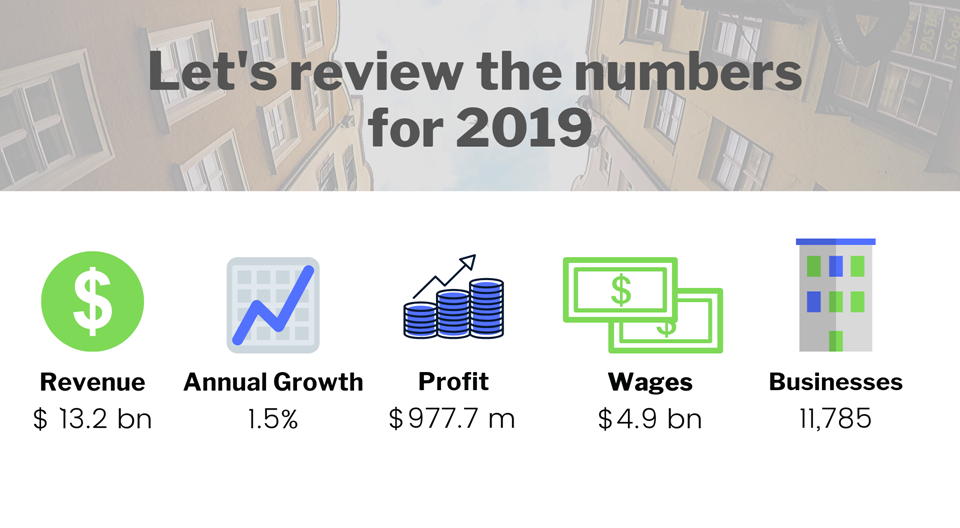 The good news is that the industry is thriving, and the numbers show there is going to be continued profitability. From 2019-2024, the industry is expected to grow at an annualized rate of 1.7% and reach $14.4 billion by 2024. There has been consistent growth in the demand for metal buildings every year. Consider that 60% of all non-residential, low rise commercial buildings are now metal buildings – and that demand is expected to keep rising.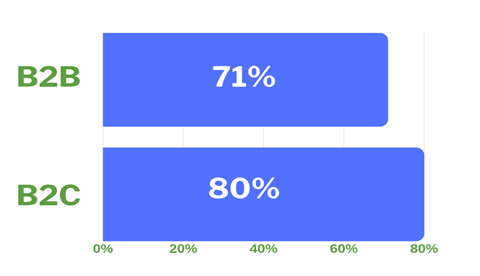 Now let's connect this growth with current trending in B2B and B2C sales. While B2C sales have traditionally had a stronger digital presence, compared to B2B, B2B is slowly but surely catching up. While approximately 71% of B2B sales are happening online, 80% of B2C sales are online.
While these numbers are already significantly high, it's projected that about 90% of all B2B and B2C purchasing will be web-based by 2020. This tells us that very soon, only about 10% of your target consumer will be able to find you without the Internet.
But more importantly – these numbers are climbing so rapidly that it tells you something very important, as a supplier. Part of closing sales and earning revenue is understanding your market's buying patterns and how they make their decisions. Your buyer's behavior and expectations are changing. The numbers show that B2B and B2C buyers prefer to start their search online through streamlined, digital channels. They want to talk to someone directly when they're further along in the sales cycle. Don't have a digital marketing strategy for connecting to prospective customers online? The time is now!
What are Online Steel Building Buyers Looking For?
It's one thing to know how B2B and B2C buying behaviors are changing in general. But it's another thing to know exactly what they're looking for. Understanding the consumer gives you a huge advantage when coming up with a digital marketing strategy and outreach plan. We've done the research and put together the data for you, in order to help you understand who your "online buyer" is:
The Online Buyer's Search Expectations
One thing to know is that the online buyer is way more savvy now, compared to previous years. They know they can compare endless options through the power of the internet. When they're getting started on the research for the purchase decision, they want to do so independently. With this newfound power of online buying, the buyer is choosing when they want to speak with a supplier. And, it's usually much later in the buying journey. Even if you've received their contact info through a lead form, they may not pick up the phone until they're ready! Additionally, when they do choose to speak to you, they expect you to know who they are and what they're looking for, as well as provide them with ready-to-go quotes.
How do you leverage this behavior? Take advantage of their time surfing the web, and hopefully landing on your site. Focus on optimizing your site. That way, when you get the chance to speak with the prospect, you're ready to sell them.
Which Business Qualities "Sell" the Online Buyer?
A key thing to remember here is that logic, not emotion, drives purchase decisions. At the same time, the attention span of the online buyer is getting shorter. They expect instantaneous information at the touch of a button. A 2018 Big Commerce survey of more than 500 B2B retailers looked into the top trends and concerns for online brands in the "maturing" B2B marketplace. They discovered that their online buyers aren't valuing inventory options, customer service, and even business reputation as much as they used to. Now, buyers' purchase decisions are being driven by price and whether or not they can purchase online easily. See the stats from the survey below, which asked respondents to choose "up to 3" selling points that determine their choice of brand online.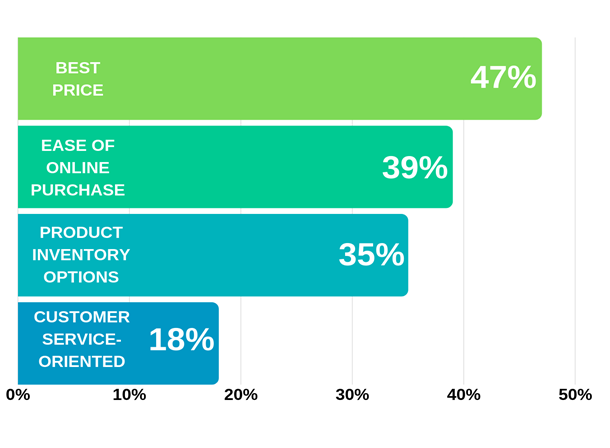 What constitutes an easy online purchase? According to Big Commerce, for B2B, the following play into what the buyer is considering an "easy" purchase:
Credit limits
Quoting
Price list
Purchase orders
Quick order forms
Purchasing approvals
Financing
Bulk pricing
The takeaway: if you can list some sort of pricing guideline on your site, especially if your pricing is appealing compared to other local suppliers, you're setting yourself up for success. It takes time to quote a specific lead based on numerous factors about their building project. If prices and/or information about how you calculate your prices is present on your site, the prospect is more likely to set up a phone call.
The Online Buyer's Core Needs
It's helpful to know what kinds of steel building leads are being generated by demand. That way, you know what your target market is looking for and can better accommodate them. 360Connect receives thousands of quote requests monthly, and regularly calculates inbound lead data so we can provide better real-time data to our clients. Among the top "purposes" (or contexts) for steel buildings purchases gathered this year, we've received the following: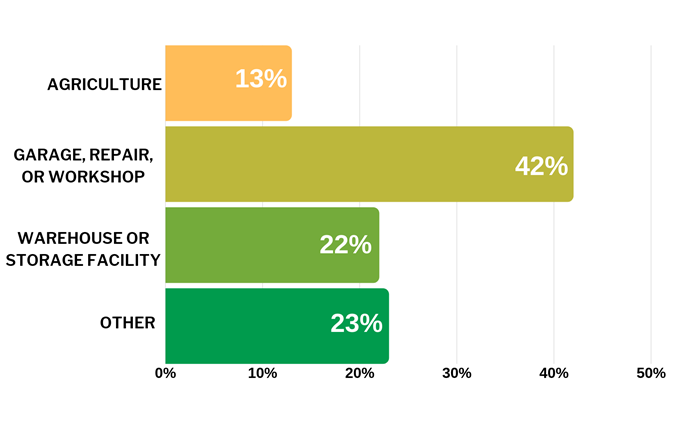 "Other" purposes included self-storage or mini storage facilities, retail or storerooms, churches, gymnasiums, among others. While normally, there's a predictable, straight forward connection between purpose and building size, structures, and customization – note that requests we get from "other" categories include a variety of sizes and structural requests, and can often be some of the most valuable leads.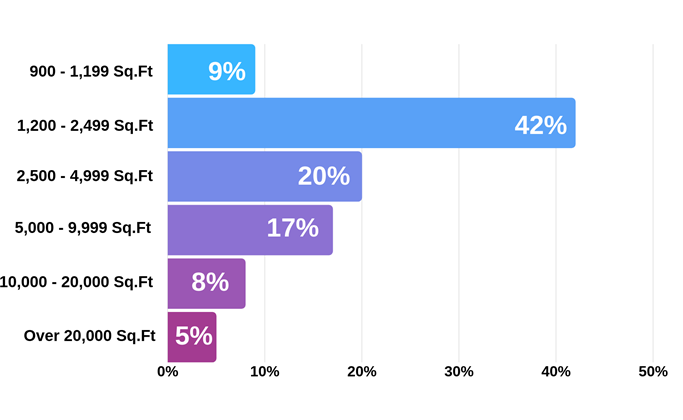 In terms of square footage and size requirements most buyers are requesting, the highest lead volume comes from steel buildings 1,200 – 2,499 square feet, with 2,500 – 4,999 square feet with the second highest lead volume.
Keep in mind than many buyers are estimating their square footage needs when they fill out an online quote form. Depending on their business or personal needs that they share with you, you may be able to advise them further as to size recommendations based on your expert advice.
The Online Buyer Needs your Advice
We're finding that along with the trend of more buyers starting their building search online, is that close to 50% of these buyers haven't done their research thoroughly before filling out a lead form! This indicates a couple things …
This backs the idea that buyer behavior is changing, due to digitized information and automated purchasing existing in one place. Because they're starting and ending their buying journey in the same place, they're doing less research and instead, buying as they research.
They need expert advise from you to make a decision.
Remember the above-mentioned "key selling points" – if you have what they're looking for at a competitive rate AND you make it easy to buy online, securing their business is a natural next step.
Looking at our data from the past year, interestingly enough – just about the same percentage of online buyers looking for steel frames are "seeking advice from the supplier." That creates a lot of space for you step in between browsing and buying – you're better able to spark a conversation, inform them about the purchase decision that will best suit their needs, and close the sale. As Big Commerce puts it, "more often than not, the buying process involves a lot of back-and-forth between the supplier and the customer, as the former continues to nurture the latter toward conversion."
Advice to Prep Business for 2023
Based on this information about the changing online steel building buyer, there's several digital marketing strategies you can implement into your annual goals to generate higher quality leads and drive more revenue.
First, let's start by looking at the top metal construction trends to look out for in the upcoming year.
E-commerce is on the upswing. Expect to see a decrease in consumer preference for brick-and-mortar companies and a shift towards online buying and warehouse-based companies.
As a result of more online buying, expect to see steel industry grow in revenue by 2.3% at projected $303,600 million.
Over 70% of profitable buyers will be sourced online.
If you don't have a robust digital marketing strategy in place, now is the time to plan for 2023. Reap the benefits of the online marketplace and bring new prospects to your company. Accordingly, here are our top 3 pieces of advice for amplifying your online outreach:
CRM integration. Go digital with your sales funnel and manage more leads quicker.
Offer quotes online. Remember that the top business offering online prospects are looking for are

competitive pricing

and

quick,

easy online purchases

. Appeal to the fast-paced online buyer by catching their attention while they're searching. Research shows sales go to the supplier on a first-come-first-serve basis.
Increase your digital marketing budget. You might cringe at this suggestion at first. But, you'll maximize your outreach and gain a company brand presence. Also, your ROI on marketing efforts will climb as a result and you'll generate more revenue.
Read more here about steel industry trends and updates over the past year. Looking for new ways to bring in new prospects with little added effort from your marketing team? Think about giving 360Connect's marketing model a shot. We do the work to verify your leads and assure their true-intent to buy before sending them your way. We make it easier on you to close more sales and grow your business.