How to Return a Lead in 4 Simple Steps
Return Leads in Minutes With This Helpful Guide!
Don't forget to check our FAQ if you have questions about the return process.
While 360Connect does its best to vet every lead that comes through our system, mistakes can happen. When this occurs, 360Connect has a system to return leads and have a credit returned to your account.
Types of Leads that Qualify for Review and Reaccreditation
Disconnected phone number or bounce back email.
Does not match your product profile setup. (For example, a lead wants a wide format printer but you are signed up for copier leads.)
Does not match the selected counties on your profile at the time the lead was received.
A lead that is received twice within the same 30-day period that is generated by 360Connect.
A direct competitor—someone that sells your product or service.
You have 10 calendar days to return a lead. After those 10 calendar days have passed you will not be able to return a lead for review for credit. If you issue the return process before the billing cycle ends, your credit will be applied to the current billing cycle.
The billing cycle begins at the beginning of each month. The billing cycle ends at the end of the month. If the return request is approved before the end of the month, your credit should apply to that current billing cycle. If it is approved after the end of the month, the credit will not appear until the following month.
How To Return a Lead Step by Step:
There are two ways to return a lead. However, both options will require you to interact with the Supplier Portal. You need to understand what the supplier portal is and how it functions before you return a lead.
What is the Supplier Portal?
The supplier portal is a website that houses all of your leads, supplier account information, invoices, and contact information.
Note: If you receive leads in multiple categories through 360Connect, you may need a specific log-in for each specific supplier portal. Your account manager should have sent the correct supply portal link and log-in information. If you do not have this information, please contact accountmanagement@360connect.com
For example, if you sold copiers and business phone systems, you would need to log in to different supplier portals with URLs such as:
https://suppliers.360telecommunications.com
https://suppliers.360officeequipment.com
These are separate supplier portals and require separate log-in information for both.
For instance, the log-in information for telecommunications could be:
Username: Bob
Password: Bob70
While the log-in information for copiers would need to be something different such as:
Username: Craig
Password: Craig80
Log-in information is case-sensitive. You will need to input the exact information each time you log in to the supplier portal.
The supplier portal will contain information such as:
360Connect Contact Information
Billing Information and Invoices
Lead Categories
Lead Locations
Lead Setup
Lead Return
Lead Reports
Password Management
Essentially, the supplier portal should act as your one-stop shop to manage and view data about the leads you receive. Once you log in your home page should look like this:


If you are unsure about your log-in information, supplier portal website, or any other information. Please contact us at https://www.360connect.com/contact/ and we will get to you shortly. The average time for a return approval/denial is 2-3 business days.
You cannot make changes within the supplier portal (contact your account manager if you need changes).
Returning a Lead by Email
The first way to return a lead is to use the "submit for review" button found in every 360Connect Quote Request email. To use this method, you will need to find the email containing the exact lead you wish to return.
Within the email, under the subheading FEEDBACK, click "submit for review."


Once you click this link it will take you to the log-in for that specific supplier portal.

After you log in, the supplier portal will automatically shortcut to the submit for return screen for the specific lead.
Note: Once you are in the supplier portal, you can navigate to other leads to return as well.


From there, you can fill out the section on the right-hand side titled "submit return request." You'll then need to choose a reason for return in the drop-down menu. Next, you'll write a comment explaining the reason why you are returning the lead.


Lastly, you'll hit "request return" and you are done! You should see a screen like this:


Now you have finished and can navigate to other leads within the supplier portal. Once your return credit has been approved/denied the primary email will receive notification of the status. Additionally, you will be able to view the status of the return process in the "reports" tab.


Returning Lead by Supplier Portal
The second way to complete a return lead request is going directly to the supplier portal. Once you complete the process, approval and rejections will be shown in the portal. You can view a written and video guide here:
Step #1 - Log in to your supplier portal. On the "Home Page" Click at the bottom of the screen "View the Complete Report." This will take you to a list of leads categorized by the date received. At the top of the website, you will see that you are now on the "Reports Tab"
Step #2 - On the "Reports Tab" select the lead you would like to return by clicking on it.
Step #3 - A pop-up window will appear with the information concerning the lead. On the right-hand side, you will see a section that says, "submit return request." Choose a reason for return in the drop-down menu. Then write a comment explaining the situation behind the return.
Step #4 - Select "request return" and you are done! The primary email on the account will then be notified by email about the status of credit approval/denial once the lead has been audited. You can also view the status of the return within the supplier portal.
Common FAQ About Returning a Lead
Here are some common FAQs we think can help you!
Can I return an unresponsive lead for credit?
No, as long as the phone number and email are valid you will not be able to return an unresponsive lead. Contact rate is highly dependent on call response times and persistence, if you're not speaking to at least half of the leads we send, let your Account Manager know.
Can I receive a return credit for bad contact information?
(Such as phone line disconnected, wrong numbers, and/or undeliverable email)
Yes, you can receive a return credit for bad contact information such as a phone line being disconnected, a wrong number being given for the lead contact, and an undeliverable email.
What is the difference between an unresponsive lead and an unreachable lead?
Unresponsive: You talk with a lead and then you never hear from them again.
Unreachable: You are never able to make contact after several calls attempted.
Are my return requests audited?
Every return request is audited as we take our quality assurance process seriously. A 360Connect member of our Client Support Team will review the quote request. Notification of approval/denial will be sent via an automated email to the primary email address associated with the account as well as the supplier portal.
We audit return requests based on the notes you provide in the return requests. We take the feedback seriously as we look into improvements with our marketing campaigns based on our client's feedback. As well as to help you try to give you more insight on a lead that may have been returned erroneously (i.e., a lead returned for a bad number that we spoke to and may have been misdialed). The more information you provide, the better we can understand your situation and improve upon our services. We only want our partners to receive the highest quality leads and create more opportunities for success for everyone.
Why am I getting leads that don't match my geography?
We match leads based on the geography selected on your profile l The most granular we go is on the county level. A lead may input a postal code within the lead form that covers 3 counties if you match for one of those counties you will receive the lead.
If you receive a lead that is requesting service in a county/state outside the active coverage we have on file, then those leads would qualify for a return credit.
Should you have made changes to the coverage and received leads in that geography, we will not refund leads that you received prior to any changes to your account geographic location. Should you receive a lead that is in an active county on the profile, and you no longer service that area, please contact your Account Manager to discuss making changes.
I've received the same lead twice, how did this happen?
We do our best to only send unique leads to you within a 30-day period, but occasionally some may slip through the cracks. I.e.., multiple contacts from the same organization submit their information for quotes, or the lead uses alternative email addresses.
Please return any duplicate leads that 360Connect sends to you within that time frame (30-day window, meaning you received the same lead multiple times in 30days). Remember, you have 10 calendar days to return a lead for credit.
Should you get a lead that comes back into our system after 30 days, we would not credit the lead back and would consider this a new opportunity allowing your business another chance to close the business. If you are past the 10-day return policy, we will not issue a return credit.
Can I return a lead that is unreachable?
Can I return a lead that changes their mind?
While we are sad to hear that a lead did not work out in your favor, we will not approve a lead return request if a customer decides on another competitor or decides to not purchase from you.
Can I return a lead that says they are "not interested?"
Yes and No.
Yes, should you get the wrong contact information, you could get a return credit.
No, if the contact information is correct. The customer expressed interest in buying or acquiring services that your business does. They may have chosen another supplier or decided to wait for purchase, however that is still a valid opportunity at the time we sent the lead to you. We recommend a rebuttal to understand why they are telling you "not interested". You can ask, "Help me understand, you expressed interest in getting a _ (product or service) __ did you already get what you need, why are you not interested now?"
Do I get a return credit for leads that come from an external party?
At this time, we are not offering a return credit from leads that come from any external marketing. Leads can shop around to multiple websites, and if you have multiple sources of receiving leads you might get the same lead from your multiple sources. It should be rare but let your account manager know if it's becoming an issue.
Can I return this lead for credit from a lead that wants a specific type of brand/model?
No, we do not offer a return credit if you contact a lead and do not have the specific model/brand they ask for.
I received a lead that is not ready to buy right now, can I return this lead for credit?
No. While the lead may not be ready to make a purchase at the moment, this could be a great way to build a relationship for a future purchase down the road.
Can I return a lead that has a personal email when I take only B2B leads?
No. Leads may sometimes use a personal email to receive quotes for B2B purposes.
If I return a lead after the invoice closes, will I get credit?
Yes and No.
Yes, if you return the lead within 10 calendar days and it is approved. However, that credit will not appear until the following month.
No, if you return a lead outside of those 10 calendar days, you will not receive a return credit.
How do I get notified of the status of my return request?
You can receive updates via the supplier portal on the "Reports" tab. View the lead status on the right-hand side.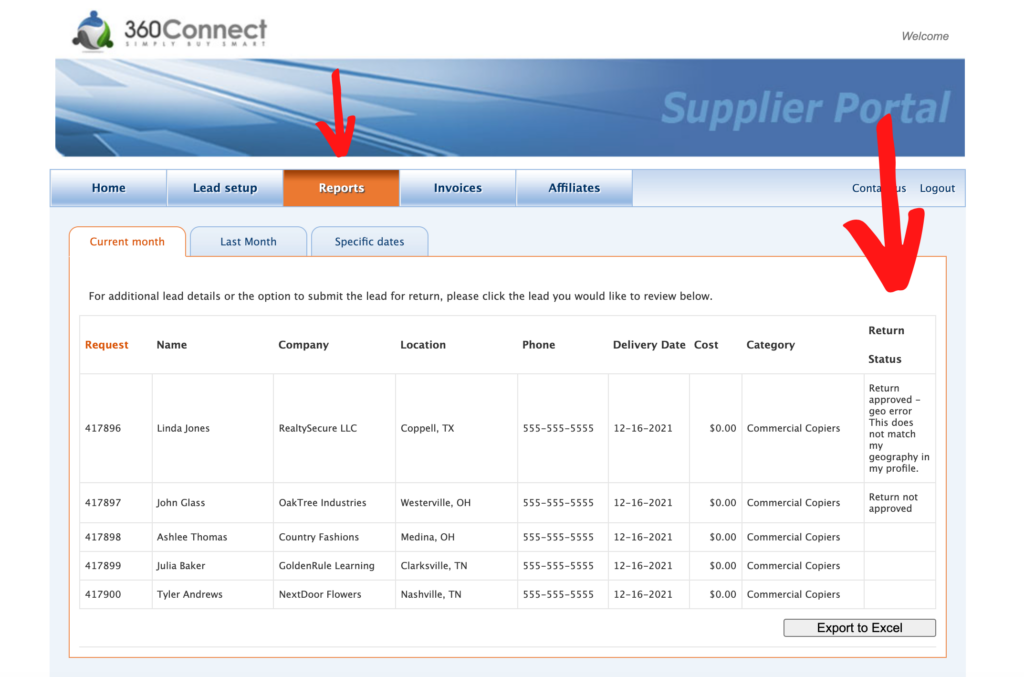 The primary email on the account will also be notified via email about the approval/denial of the return request.
I can't find my logins, where can I go to get them?
You can find your account login information in the onboarding email your account manager sent to you at the start of the program. If you cannot locate that email, contact your account manager and they can provide you with your login information.
What if there is a special circumstance that does or does not fall into 5 reasons listed above for returning a lead?
If you feel there is a justifiable reason why you should be able to return a lead, we encourage you to contact your account manager before submitting a lead return request! They can help you evaluate whether or not that may be the correct course of action for you. Have trouble closing the deal? Check out our best practices guide to put your best foot forward with your clients.
Want to learn more? Check out some of our other helpful learning center content
Goal Setting for Success in 2022
Determine How Many Months It Will Take You to Grow Based on Your Monthly Lead Investment
Not working with us yet?
Let's connect to see if working together would be a good fit!
CALL US AT (888) 259-6606