10X12 Modular Buildings are an excellent choice for people looking for a space-saving modular building option. A 10×12 building fits nicely into any landscape without looking oversized or bulky. Making it the ideal solution for those with a small backyard looking to enhance their outdoor area without taking up the already limited space.
Uses
10X12 modular buildings are an excellent residential and commercial building solution. Whether you need space to store equipment, get work done, or begin a new hobby, a 10×12 modular building is sized perfectly to meet your needs.
Regardless of its smaller space, keep in mind that many 10X12 modular buildings can accommodate add-on features. These include windows, air conditioning, vinyl flooring, porch railing, and more. A 10X12 modular building can fit your needs and budget to ensure you're satisfied with the space-saving solution. Check out three of the most popular modular building uses below.
Shed
A 10×12 shed can serve a lot of purposes. For storing, despite its small size, it can fit a tractor, ATV, or a motorcycle. In addition to storage, you can have a garden shed, a she-shed, and many more options.
Considering working from home? A 10×12 modular building may be right for you. A home office just steps from your back door offers many advantages. For example, the office modular building provides a place away from distractions in the house. Letting you stay efficient and close to home.
Recreational
Discover the benefits of designing a creative oasis in your yard. From a bar, gym, yoga studio, or man cave, the possibilities are limitless.
Size and Dimensions
A 10X12 modular building is 10 feet in depth, 12 feet in width, and 8-9 feet in height. Additional dimensions to consider are the windows, doors, and roof. Keep these additional dimensions in mind so you're aware that space will be taken up by those fixtures. For example, on average, the wall thickness will be about 3 inches. Overall, you're looking at an area of about 108 feet.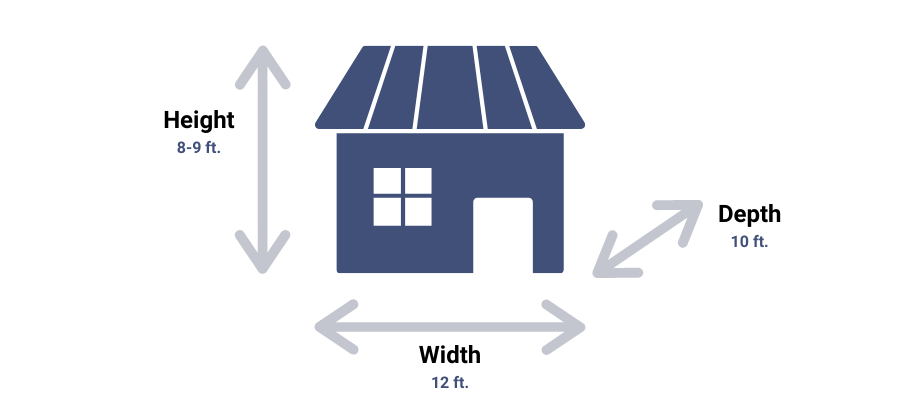 Features
There are no design limitations when it comes to modular homes. You can select any style of modular home that you desire and incorporate your dream design style. While your options are endless, below are some of the common features of modular buildings.
Windows
Doors
Walls
Lighting
Flooring
Electricity Hook-Ups
HVAC
Additional Add-On Features
Kitchens
Stairs and Railings
Interior doors
And More
All of these features can be customized to fit your needs. The wall locations, the number of bathrooms, and even the placement of outlets are completely customizable. In addition, you can make adjustments after the fact if circumstances change.
Advantages
From the efficiency to the ease of build, it's no surprise that a 10x12 modular building is an optimum choice. Construction projects can be a costly and endlessly time-consuming endeavor. Because modular buildings are built off-site, the quality, safety, and timeliness are enhanced. Check out some of the other advantages of a 10x12 modular building below.
Speed
Eco-friendly
Same standards of quality as conventional buildings
Flexible
Savings potential
Better depreciation
Cost
Construction costs vary depending on a range of factors, including:
Duration
The project size
Design complexity
Material Types
Add-On Features
Prices for a 10x12 modular building can range from $2500-$3800. Typically, modular building prices are $55-$60 per square foot, including installation. Construction prices are subject to variation.
To learn more about the various modular building options, take a look at our in-depth Modular Building Buyer's Guide.