40 Foot Shipping Containers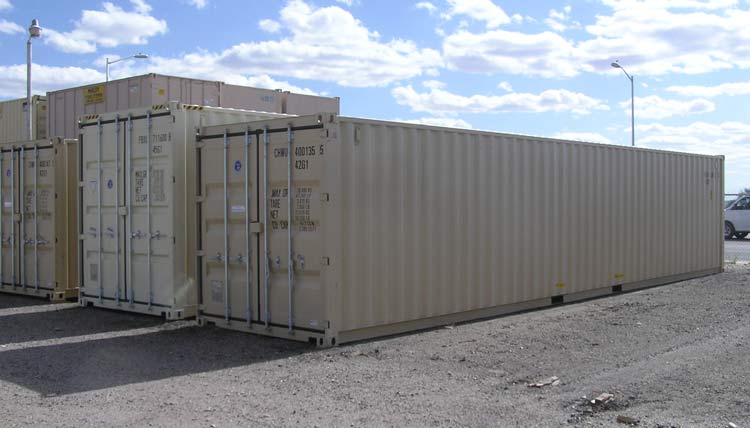 40-foot storage containers are one of two standard sizes (20-foot is the other standard size), and are great options for commercial, industrial, and rural storage needs. The 40-footer is the most popular choice out of the larger storage units, due to their "standard" size and pricing. They're ideal for large open locations such as farms, job-sites, or parking lots, and are considered the best value for a unit – giving you over twice the square footage of a 20-footer at a lower cost per square foot – if you have room to spare at your site.
Dimensions
The standard 40-foot storage container's dimensions are going to be 40 ft. long, 8 ft. wide, and 8.5 ft. tall (40' x 8' x 8.5'), which equates to about 320 sq. feet. If you're looking for a container that's a bit taller to store larger equipment, you can also opt for the 40-foot "high-cube," which adds a foot onto the container's height and measures 40' x 8' x 9.5'. Note that these are external dimensions, and the internal dimensions will fall just a bit smaller at around 39'5″ x 7'8″ x 7'10" for the standard and 39'5″ x 7'8″ x 8'10" for the high-cube.
Exterior Dimensions
Standard:
40′ x 8′ x 8.5′
High-Cube:
40′ x 8′ x 9.5′
Interior Dimensions
Standard:
39'5″ x 7'8″ x 7'10"
High-Cube:
39'5″ x 7'8″ x 8'10"
Door Opening
Standard:
7'9″ x 7'6″
High-Cube:
7'9″ x 8'6″
Weight (Max Gross)
Standard:
67,200 lbs.
High-Cube:
67,200 lbs.
Uses
40-foot storage containers are the most popular choice for businesses that require additional volume to store materials, compared to the 20-foot container. They're frequently utilized by businesses that need to store very large equipment or machinery, since they add 170 square feet of space compared to the standard 20-footer. To give you an idea, a 40-footer can hold two compact cars with room to spare! However, keep in mind that it is a common misconception that the 40-footer can handle more weight than a 20-footer – their weight capacity is actually equal (at 67,200 lbs.), but the 40-foot container can be used to hold more items (rather than heavier ones). Among the dozens of ways 40-foot storage containers are used commercially, here are some of the possible uses:
Construction sites
Retail storage
Farm/Agricultural shelter or storage
Manufacturing or warehouse storage
School classrooms and/or storage
Emergency housing
Portable bathrooms
Outdoor food/drink kiosks
Indoor gardens and nurseries
Interestingly, more and more businesses are starting to use 40-foot storage containers for livable space – such as buildings, offices, and portable housing – since they're cost-effective, portable, and easy to renovate.
Features
You have a wide variety of options when it comes to features for your 40-foot container - including different types of doors, flooring, locks, ramps and wheels, shelving, ventilation, insulation, windows, interior finishing, and much more. Features included in most standard storage containers typically include:

High quality 14-gauge cor-ten steel panels
Ground-level access
Portability (move as needed)
Basic lockable double doors
Thick plywood flooring
Cost
The cost per 40-foot container depends on a few factors, including age and condition, whether you're renting or buying upfront, chosen add-on features, your location and distance of the supplier from you, and season.
New: if you're buying a brand new 40-footer, expect to pay top dollar for a standard container with no add-on features. 
Used: If you're buying a used 20-footer, expect to pay a bit less for a standard container with no add-ons.
Rent: If you choose to rent a 40-footer, typically the above standard prices apply based on condition, plus a small amount more due to the convenience of renting with no add-ons.
Keep in mind that the more features you add, the more your price for the 40-footer will increase. Additionally, delivery for 40-foot storage containers can increase based on mileage. Learn more about 40-foot storage container delivery services.