Steel Buildings for Agricultural Purposes
Farmers and ranchers need durable buildings and equipment to get the job done. Agricultural steel buildings can be one of the most effective and cost-saving investments a farmer or rancher could make. Steel buildings are adaptable and provide the ruggedness that all ranchers and those who work in agriculture expect. Simply put, steel buildings are worth the money. Your options also aren't limited on the types of agricultural steel buildings either. You're not paying bottom dollar for a low-tier product. In fact, a steel building may be one of the best purchases you could ever make.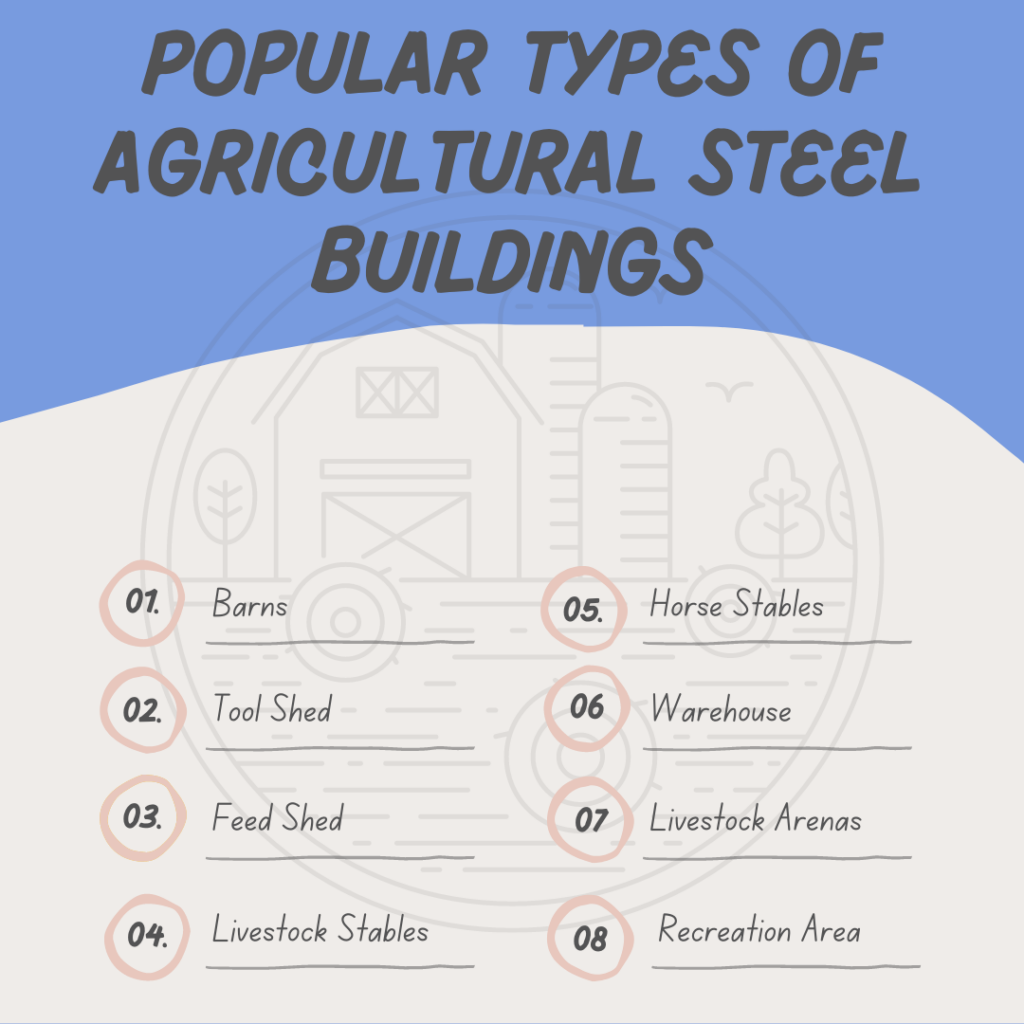 Benefits of Agricultural Steel Buildings
There are many advantages to choosing steel buildings over wood constructions. It's important to note that steel buildings give you a ton of options when it comes to form factors and pricing. You should meet with multiple suppliers to find the right company and building for you.
Sturdier & Durable
Most steel buildings are made with high-quality steel. This steel is rated to be stronger than wood and more durable. Steel buildings can last anywhere from 50-100 years if properly maintained. Metal buildings don't have to deal with items such as mold, mildew, and rot. Those problems are usually associated with wood-based buildings. Your money is going to go further with a metal building, just make sure to watch out for rust, as that can affect steel buildings.
Less Maintenance
Steel Buildings are easier to clean and maintain than wood buildings. For instance, a metal roof can last around 40-70 years, however, an asphalt shingle roof will last around 20-25 years. You'll need to perform some general maintenance such as washing, checking the insulation, fixing any rust or leaks. Compare that with roof repair or mold, and the option becomes clear. An agricultural steel building saves you time, and time is money when it comes to harvesting!
Recyclable Steel
A little-known fact about steel buildings is that they are often made from recyclable materials. Not only are those steel buildings made from recyclable steel, but at the end of their life, all the steel building materials are also recyclable. Steel buildings are eco-friendly in more than one way. They can reduce energy costs, reduce building wastes, and require less production time.
Quick Installation
Steel buildings are pre-engineered, meaning they are built at a facility and then shipped and fully erected within weeks. Depending on the size, it can take wood buildings months to be erected. That isn't the case with agricultural steel buildings. Size, modifications, and materials can delay or increase this time period.
For example:
According to Rhino Steel Building Systems a general idea for installation and erection of buildings:
40' x 60' x 12' with a three-person crew erects in about five days
60' x 100' x 16' with a four-person crew takes about seven days to assemble
Insulation
While not every farmer or rancher will need insulation, it can be a necessity for some. Insulation can help keep animals warm during the winter months. It can provide a warm shelter away from the elements. Not just for animals but for equipment and tools as well. Most builders recommend adding insulation during the building process. If need be, you can wait and add insulation when you need it.
Budget-Friendly
Think it's cheaper to buy wood over steel? Think again! Steel average around $19-$25 dollars per square foot, a wood building could run you as high as $35 per square foot! Again, remember that steel lasts longer than wood. If you choose steel, not only are you paying less in the short term, but that money will go farther than a wood-built building. You'll also save money on maintenance.
Features of Agricultural Steel Buildings
Weather Resistance
With ranchers being located in hot and extremely cold places such as Texas, Montana, and Wyoming, you need a building that can stand up to the elements. Steel buildings are much better at adapting to extreme weather conditions. Steel buildings are better equipped to handle items such as:
Heavy rainfall
Heavy snowfall
Freezing rains
100℉+ heat
Rapid temperature changes
Termite Resistance
Steel buildings are not only durable but hold up well to other pests such as termites. Steel is an inorganic material, which termites won't be able to eat. Termites will seek out wood buildings as they contain cellulose, which termites thrive off. Once they are in your wood building, you'll most likely have to call an exterminator to deal with them. However, termites can burrow into wood buildings for years without being noticed. These pests can damage more than just the building though, they can even eat furniture and other organic material. Most termites prefer sub-tropical climates, but termites have been found in every state in the U.S—excluding Alaska. This means there's always the possibility they invade your wood-built building.
Steel vs Wood Fire Resistance
Steel has a greater resistance to fire than wood as it is a non-combustible material. That doesn't mean that your steel building can't experience any fire damage. Rather, a fire must burn much hotter and for longer to have the same effect it does on wood. For instance:
| | | |
| --- | --- | --- |
| | Starting Temp. Needed to Burn | Melting Point |
| Wood | 320°F-500°F | 500°F-800°F |
| Steel | Remains unchanged until 600°F- Keeps 50% integrity around 1100°F | Around 2700°F |
Source:
Chase. "How Hot Does Wood Burn? Examined." A Website about Firefighters and What They Do, https://firefighterinsider.com/how-hot-does-wood-burn-examined/.
"Steel Solutions Center." AISC, American Institute of Steel Construction , https://www.aisc.org/steel-solutions-center/engineering-faqs/11.2.-steel-exposed-to-fire/#9370.
Customized to Specific Needs
Need a special opening or modification? While there are many prefabricated steel buildings, many providers also enable customization or special modification. There are also many sizes and styles to choose from when purchasing. This could include:
Bi-fold Doors
Hydraulic Doors
Window Installation
Insulation
Skylight or Transmitting Panels
Ventilation System
Top Companies
If you are looking for a steel building, it can be in your best interest to act quickly when deciding on a steel building. Steel buildings are in high demand and materials can be limited due to the problems with the supply chains. Fortunately, we have resources on the top companies, costs, and how you can benefit. We also have more information on how Pole Barns are obsolete compared to steel buildings.
Top 3 Metal Building Manufacturers
Pole Barn vs. Steel Building: What's the Difference?
How Much Does a Metal Building Cost?
Need an Agricultural Steel Building Now?
If you are ready to take that next step in purchasing a steel building, 360Connect can help you make the right choice. We offer high-quality quotes with top-notch suppliers in your area. Don't wait, contact us today and get started on getting the steel building you need.