Nephrology Medical Billing
Nephrology medical billing is the billing process (whether in-house or outsourced) for nephrology care. Nephrology deals with kidney treatment and care. This is a specialized type of care and medical billing service with complex billing tasks. Kidney care can be difficult to bill because there are often prior illnesses or conditions that can cause problems within the kidneys.
Many physicians may try to conduct their own nephrology billing, either themselves or with the help of hired staff. However, doctors find this process draining, confusing, and time-consuming compared with other tasks. Even with dedicated staff, nephrology medical billing can be complex with special coding and administrative tasks.
Nephrology medical billing can be difficult due to:
Staying up-to-date with ICD-10, E&M, and CPT Coding Guidelines
Renal Failure Coding
Chronic Kidney Failure Coding w/ Diabetes Documentation
Documenting Care Complications
Incorrect Claim Denials
And More!
Many doctors are turning to outsourced nephrology medical billing to simplify their workload and improve their revenue cycles. If you're having trouble with your nephrology billing, outsourcing could be the perfect solution.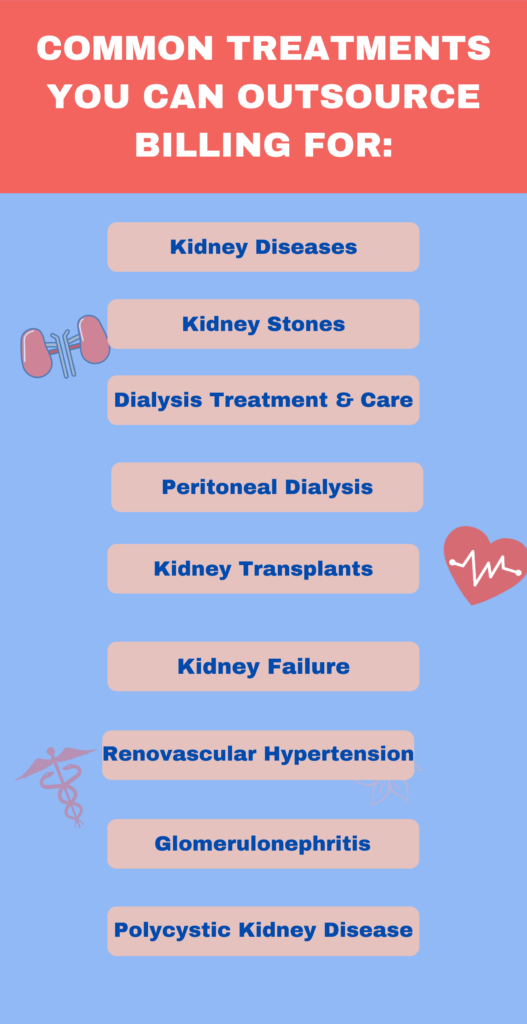 Benefits of Outsourced Nephrology Medical Billing
1. Save Time for Your Team 
If you are looking to free up the time of your staff, you, and your patients, medical billing services can help. You are most likely already doing a lot of clerical work with inputting patient information into an EHR. Then, you turn around and have to input all that information into a billing program. Many outsourcing billing services can help eliminate this time waster along with several other tasks such as:
Insurance Eligibility Verification
Automated Billing Templates
Patient Data Collection
Staying Concurrent with State and Federal Regulations
2. Eliminate Complexity
Nephology medical billing can often be complex due to multiple underlying factors with kidneys. For instance, kidney disease is often combined with some form of diabetes, hypertension, and other ailments. An outsourced medical billing company can simplify this process for you, handling most of the medical billing and eliminating these tasks for your administrative team.
3. Navigate Claim Denial
Change Healthcare estimates that around 86% of denials are preventable, which can be great for your practice. A majority of these problems are fixable! Denials can happen often due to incorrect information, eligibility problems, incorrect coding, or missed filing procedures.
Whatever the cause, outsourced medical billers can help you negate this revenue loss, especially when it comes to nephrology. Medical billers deal with the nuances of nephrology every day. They can prevent denials by instituting proper procedures for staff and patients, so your average rate of denials will be lower.
Furthermore, when a denial happens they can notify you immediately so you can reach out to the necessary parties involved. That way you have the most optimized revenue cycle.
4. Direct Resources To Other Areas
One of the best long-term benefits of nephrology medical billing service is that you do not need to repeatedly train and hire new staff. While you will still need some administrative team members, you can keep your costs much lower. You can focus your time and resources on improving patient care, and at the same time, still keep up to date with the latest in medical billing.
5. Optimized Revenue Cycle 
A nephrology medical billing service can help streamline the revenue cycle in a multitude of ways. Outsourced medical billing providers can work with your staff to ensure patients have informed the necessary steps in the billing process. They can help you eliminate errors, and break free from the repetitive cycle of losing revenue due to missing coding or information.
Remember, medical billing companies work with insurance companies every day filing hundreds of claims. These companies are usually the first to know about regulation changes as well as insurance policy changes. They can help you automate your processes and improve the rate at which you file. Additionally, they will help you collect patient balances quicker and easier!
6. Detailed Data
Many billing services can provide you with detailed analytics about your billing services. You can identify problems in your billing processor or project revenue in a given cycle. These stats can help you narrow your money-making services and opportunities for growth. You'll be able to gain some predictability and set performance indicators for your practice.
Price and Top Nephrology Medical Billing Providers
Most nephrology medical billing providers will charge a percentage of your overall net collections as payment. Therefore, the more claims they process the more money they make for you. This percentage can fluctuate depending on the service and added features.
For instance, a company may charge a higher percentage if you are using their proprietary software.
Advanced MD Software offers a variety of products, selling billing software and outsourced billing for nephrology services. They are recognized globally as a top provider in medical field and can help you with tasks like improving cash flow, revenue cycle management, financial analytics, and more. 
Price: Custom quote.
Advanced Data Systems offers a 90-day guarantee that they can increase your revenue between 10%-20%. That's how confident they are in their service. They will help you set up new software and tools to automate most of your billing process. Furthermore, Advanced Data Systems will provide you with a wide range of financial tools within their software to drill down on exactly how your clinic is doing. They also offer a free billing analysis to identify how their services will help you.
Price: 3%-6% based on your net collections.
ClaimCare reports that they can increase your collection by 10%-20% while simultaneously lowering your billing costs. They provide an instant payment program that can allow patient payment to be sent to you within 24 hours. ClaimCares also touts that they can get your new billing implemented and running within a week's time. They can help train your front-end staff, work on credentialing and contacting for you, handle your billing needs, and supply you with an EMR. ClaimCare can be a great option for practices that are looking to implement an EMR system as well.
Price: Custom Quote
HealthRecon Connect has been in the business for over three decades with an average executive staff tenure of 25+ years plus. This company has helped hundreds of medical professionals in many different specialties increase their revenue on average by about 15% according to their website. You'll receive weekly status review calls, monthly onsite meetings, customized reporting and analytics, on top of many other features. HealthRecon Connect gives you all the tools and expertise you need to succeed.
Price: Custom Quote
Is Outsourced Nephrology Medical Billing Right for You?
Outsourcing your medical billing can:
Save You Time
Increase Process Claims
Establish Patient Payment Procedures
Navigate Claim Denials Quickly
While there are many upsides to instituting a medical biller for your practices, you will have to pay them a net percentage of your revenue or a flat fee per claim for their services. If you are paying a percentage, that means as your revenue goes up so does your billing service's price. However, many businesses find this attractive because of the increased revenue and time savings outsourcing medical billing produces.
If you would like to find a nephrology medical billing services that can help you, we can help! 360Connect pairs customers with high-quality medical billers every single day! Just fill out our 5-minute form and we'll contact you to verify the information. From there, we'll have up to 5 suppliers contact you with quotes for your business based on your needs. Quick and painless and you hold all the cards!
Check out our other guides on medical billing if you'd like to learn even more:
OB/GYN Medical Billing
Urology Medical Billing
Urgent Care Medical Billing
Family Practice Medical Billing