Are you looking to utilize electronic medical records (EMR) within your healthcare facility but not sure where to start? Want to know how much it will cost, what's included, and how the payment system works? Confused over the difference between an EMR and an electronic health record (EHR)?
These are all valid concerns, which is why we've created a detailed easy to digest pricing guide to help you get an overview of an EMR and its pricing.
What is an EMR?
Electronic medical records (EMR) are digital files that contain a patient's medical information. These include medical histories, diagnoses, medications, immunizations, allergy information, and lab results, among other things. Medical practices are used to store these patient records on paper charts. However, since 1996, medical practices have gone digital and now maintain patient records using HIPAA-compliant computer software. Medical records can thus be stored more safely and confidentially. Medical professionals can accurately treat patients by using them, and they cannot be stolen or lost.
EMR Pricing Breakdown
Now that you know what an EMR is, let's take a look at how the price is determined. Choosing the right EMR software for your medical practice is crucial. Because it is a necessary tool for your practice, you can expect to use the EMR system of your choice for a long time. It's important to evaluate cost factors beforehand and find software that suits your budget. The following factors determine the cost of a medical record software system:
Features
EMR products are numerous, but their features are often limited. Fewer features are not necessarily bad, but you must determine which are crucial to your business.
A good electronic medical records application should provide the following features:
Scheduling
Support
ePrescriptions
Patient Portal
Patient charts
Lab orders
Billing and coding
Below is an example of what you can expect to see when shopping for an EMR. In addition, we've provided a comparison layout for you to get a full picture of the pricing and feature differences across providers.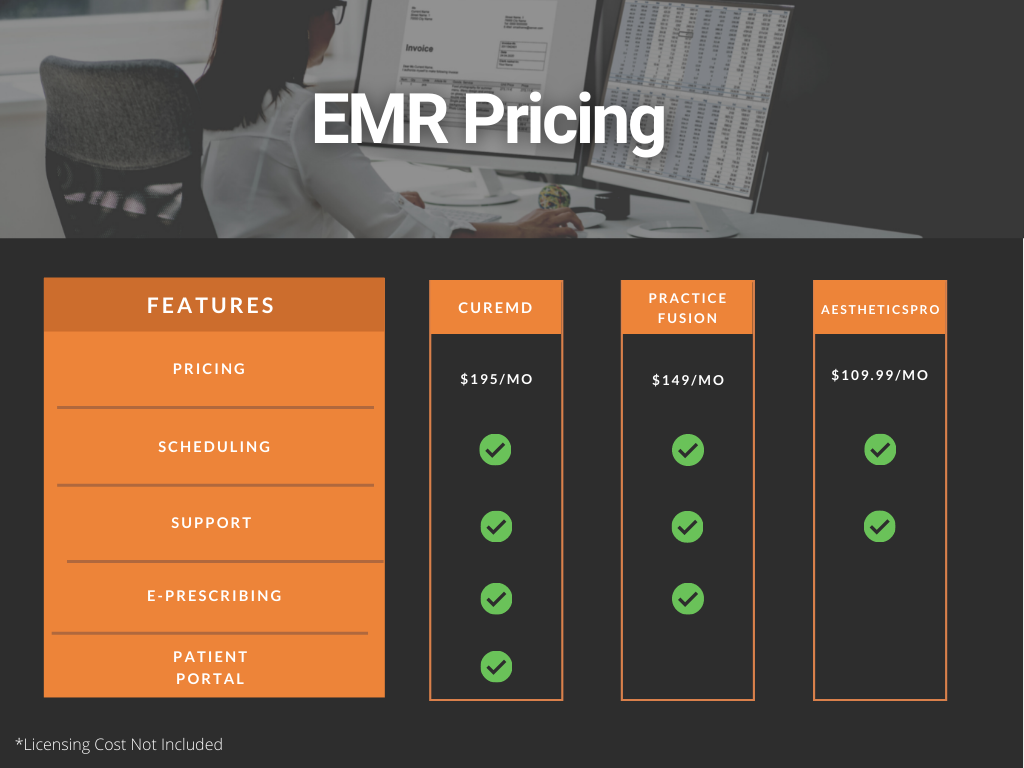 Upfront vs Ongoing Costs
There are two types of costs that go into EMR Pricing which are upfront costs that are paid once, and ongoing costs that continue monthly. In many cases, you will need to make a combination of both payments for an EMR system.
Upfront EMR Costs
Licensing Cost: the price to utilize the software.

Perpetual License: upfront fee to own software

Hardware: mobile phones, desktops, tablets, etc.
Training: Ensures EMR is properly implemented with training courses for staff.
Ongoing Costs:
Monthly fee: Monthly charges for use of service.
Licensing Cost: the price to utilize the software.

Subscription License: upfront fee for a certain about of access to the software.
EMR VS EHR Breakdown
EHRs and EMRs are both digital records of patient health information. So, what is the difference? Despite their similarity, the two terms have major differences. Despite this, these terms are frequently confused because some in the industry use them synonymously. Let us help you understand how they are different.
Electronic Medical Record (EMR)
An electronic medical record is a digital version of a paper document or chart. It allows medical professionals, especially nurses, to easily store patient data like:
Patient Charts
ePrescriptions
Lab Orders
Billing and Coding
It's also easy to refer to when tracking or monitoring a patient over time.
However, to be clear, this is just a storage of patient information only, similar to a paper record kept in a filing cabinet. It is not meant to be shared with clients and is only for ease of use for data collection and analysis.
Highlights of an EMR:
Increased efficiency internally
Digital version of a chart
Electronic Health Record (EHR)
An Electronic Health Record focuses on the digital version of a patient's OVERALL medical record. While an EMR focuses on the patient's charts, an EHR gets into the nitty-gritty of:
Lab Data
Diagnoses
Medications
Insurance Information
Etc.
This is a benefit to both the practice and patients because records can be utilized and streamlined on both ends, unlike an EMR.
Highlights of an EHR:
Health information readily available internally and externally
Keep patients informed at all times
Improved medical record accuracy
EMR VS EHR Licensing
Licensing Fee
Practice Size Can Impact Price
There are many factors at play when determining the total price of an EMR and an EHR. The price can be impacted based on the employee and patient size due to:
Training Costs
Technical Support
Employee & Customer Growth
Patient Claims
Based on these factors, your practice will likely have increased costs based on its size. It's important to keep this in mind when calculating your budget. Overall, what's your specific practice looking to pay based on your size? Check out the average prices practices revealed they are willing to pay based on their size in the chart below.
EMR & EHR Average Pricing Based on Practice Size
| | |
| --- | --- |
| Small Practice (11-20 patients per day) | $500 per month |
| Large Practice (60 patients per day) | Upward of $50,000 |
| Multi-Physician Practice | $162,000 |
Source: Statista | Software Advice | Cost Hack | SelectHub (Prices Do Not Include Licensing Costs)
EMR VS EHR in Conclusion
Although an EMR is primarily used to analyze a patient's health in a clinic, that information only tells part of the patient's information. You can provide your patients with better and more comprehensive care by offering them the information you share with other practices and laboratories. As a result, patients have fewer things to remember as part of their medical care. A practice's EMR provides communication between its doctors. An EHR lets multiple practices communicate and coordinate patient care.
Our Recommendation Based On YOUR EMR Pricing Needs
You've looked over the pricing guide, now it's time to get started.
At 360Connect, we understand there are many variables to the final cost of most services in the healthcare industry. This is why we provide you with up to 5 FREE quotes from medical solution experts.
Fill out the Medical Solution Form
We Share Your Requests With Up To 5 Suppliers.
A Local Supplier Will Reach Out to You With A Quote
It's that simple. Get started today and learn more about how 360Connect can help enhance your business.