Nursing Home Billing Companies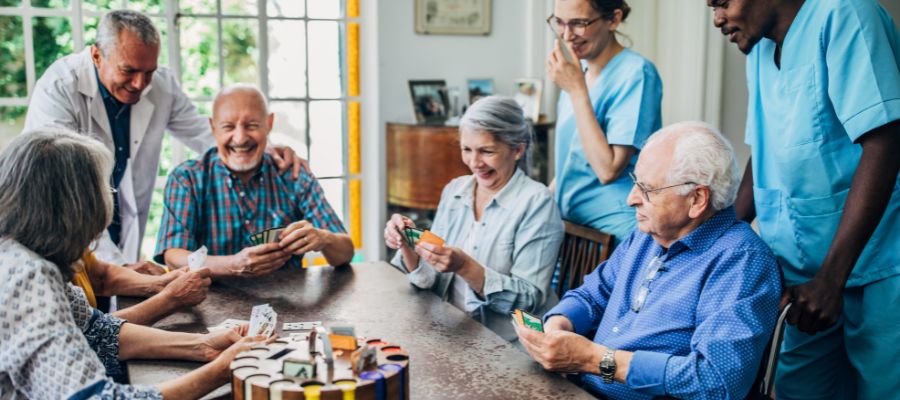 When providing the best nursing home facility, your billing process can affect your patients in more than one way. Delayed billing and denials can hamper cash flow as well as delay upgrades, make it harder to hire, and miss revenue. Does this sound familiar? Many facilities are facing billing issues when it comes to their in-house services. This begs the question, are outsourced nursing home billing companies solutions to your problems?
Additional Reading: How to Get Most Out of Your Patient's Bills?
4 Common Problems with In-house Nursing Home Billing
While nursing homes are unique from other healthcare facilities, they face many of the same problems when it comes to medical billing. Over coding, under coding, and the disparity between diagnosis and procedures all play a role in claim denials. Here are just some of the common reasons your in-house billing department may be failing you.
1. Incorrect Coding
One of the most common pain points for medical and administrative staff is coding. With ICD-9 and ICD-10 coding, there are many opportunities to make a mistake. While incorrect coding can be fixed with the right procedures and knowledge, it is still a costly mistake that rarely gets fixed. It's estimated that around 60% of returned claims are never resubmitted, resulting in lost revenue and angry customers. Furthermore, many practices have trouble responding to returned claims due to a variety of reasons.
2. Managing Denials
It is estimated that around 86% of potential claim denials are avoidable. Many practices are not equipped to follow up on denials due to a lack of manpower or knowledge. Most nursing homes are swamped with claims and must work tirelessly to manage submittals and denials. Again, many nursing homes are not able to follow up when denials happen or re-submit claims.
3. Staffing Issues
Turnover is bound to happen in any profession. People leave for other jobs for other reasons. However, when it comes to medical billing for nursing homes, turnover can produce some serious repercussions. Staffing issues can result in delayed claim submittals and a disrupted revenue cycle. Not to mention, when you hire someone new you have to invest in the time, training, and implementation of that new worker. This is significantly more expensive than having a steady workflow of processed claims.
4. Lack of Oversight
One of the more complicated parts of medical billing is that it is often susceptible to crime or fraud because of its complex nature. Without oversight, fraud may occur in your medical billing department. Therefore, it is so important to have a resolute leader to oversee your billing or have a third party conduct a review of your services.
Why Outsourced Nursing Home Billing Companies are Necessary
With these problems in mind and many others, more facilities are turning to outsourced nursing home billing companies. These companies can help you stay on top of your billing and even improve your services to process even more claims. Outsourced medical billing companies can help you improve your revenue cycle, provide better customer service, and even audit your billing services.
Everyday tasks covered by outsourcing:
Processing Claims
Claim Submission
Coding/Coding Review
Payment Posting
Claim Rejection Handling
Claim Appeals
Accounts Receivable
Patient Payment Management
Nursing home billing companies can handle most billing tasks for you. These services can allow you to divert your energy and resources into other tasks.
Additional Reading: 5 Ways to Improve Your Medical Office Efficiency
6 Reasons to Outsource Your Nursing Home Billing
1. Correct and Dependable Billing
Incorrect coding can be a worry of the past with an outsourced billing company. You'll be partnered with a billing agent (or team depending on practice size) that specializes in nursing home billing. They will help ensure that your claims have the right coding to be accepted. Billing agents have an in-depth knowledge of coding and procedures. They'll know the best method of coding for your patients and your practice and produce faster claim processing time.
2. Eliminate Claim Denials
Outsourced billing experts are often the first ones to know about changes in policy because they work with insurance companies every day. They have optimized the billing process and can negate mistakes before they happen. Nursing home billing companies can also help you resubmit claims quicker.
3. Improve Revenue Cycle Management
With a better claims submittal process and fewer denials, you can improve your revenue cycle management. You will work hand in hand with a billing expert that can walk you through the entire process of billing. They will help you optimize your procedures and front office staff to increase your revenue success. You do not have to navigate the complex billing world on your own. Instead, work with a seasoned professional at your side.
4. Focus Your Resources on Improving Your Practice
Instead of hiring the staff and infrastructure for a multi-person billing department, outsourcing allows you to focus your time and resources elsewhere. You can focus on other important healthcare issues such as machinery, equipment, staffing, or customer enhancements. Outsourcing allows you to improve your bottom line and reinvest that money back into your practice.
5. Temporary Billing is Available
Have you recently lost a high-ranking staff member for your billing? Is it hard to hire and train billing staff because of the workload, meaning you never truly catch up? Don't worry, nursing home billing companies can help you also on a temporary basis. Some companies call this "911 billing" or "Emergency billing." Whichever name, nursing home billing companies can be a stopgap for your company to hire new staff and train them properly. You don't have to sign a long-term contract and you can remove the service as you see fit.
6. Improve Compliance
Are you looking to improve your compliance process? Maybe you want to conduct an audit of your billing processes? Nursing home billing companies can help you with this as well! They can help you improve your compliance procedures and make sure they are up to date. Outsourced billing companies can also help you conduct audits of your billing process to make improvements or adjustments. This type of service can be great for those who are looking to keep everything in-house but want to improve their services.
Pricing of Nursing Home Billing Companies
While billing companies can vary in pricing depending on the services you need and the specific field you are in, there are some general guidelines you can expect. To start you will most likely have to pay some fees such as:
Set-up/installation fee
Administrative fee
Training fee
Software fee
You will also be charged a fee per claim. This can be a flat fee anywhere from $4-$10 per claim, or they can charge a percentage of each collection around 4%-10%. For audits and temporary billing services, these will be specially priced. You will need to work directly with a provider to find a price that works for you.
Ready for a Nursing Home Billing Company to Help You?
Are you ready to outsource your nursing home billing? Looking for the right partner who understands the needs of your business? Do not worry, 360Connect has your back! We pair high-quality suppliers with buyers every single day. Just fill out our 1–2-minute form and we will contact you to verify your information. From there, you will receive up to 100% free quotes from up to five different suppliers. It's that easy!
Check out our other helpful guides:
Family Practice Medical Billing