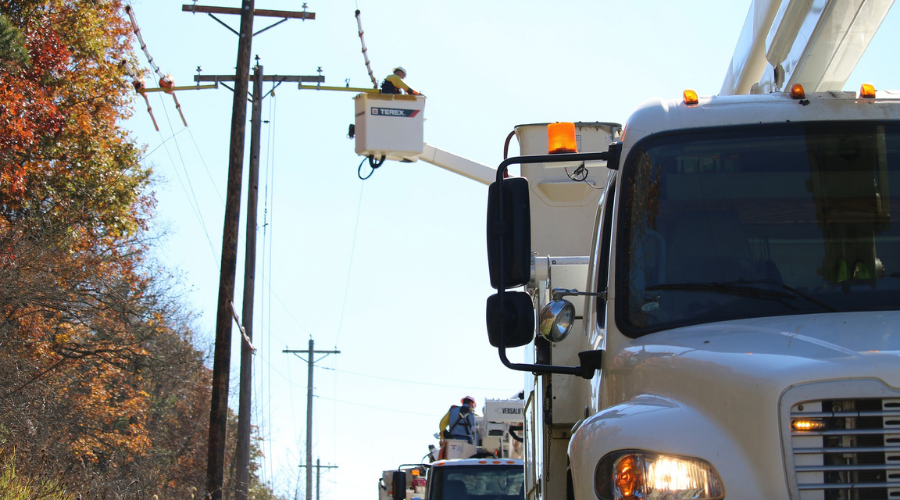 What is a Bucket Truck?
A bucket truck, also referred to as a boom truck, is a type of aerial lift. Most often, a bucket truck is a utility vehicle that has a hydraulic arm attached to the bed of the vehicle. Workers can raise, lower, and turn the hydraulic arm to different heights and different angles. A bucket truck enables companies to reach high places and complete work. They are much safer than using a ladder or climbing device. More importantly, they provide flexibility on the job site and include some safety features that you could never have with a ladder or climbing device.
A bucket truck will carry the operator and some tools to a specific height. Most bucket trucks fall within three height requirements:
Extending past the recommended height or weight limit will cause accidents. Each boom truck has a specific weight limit at specific angles. Essentially, bucket trucks are just like boom lifts, except the hydraulic arm is located on a vehicle.
Why use a Bucket Truck?
Bucket trucks are great for reaching high places like power lines or cherry trees. Boom trucks are more mobile than boom lifts, which make them excellent for jobs in the outdoors. Additionally, companies that purchase or rent bucket trucks gain another source of transportation.
You can rent or purchase a bucket truck. There is also a used market for budget trucks that many companies take advantage of. However, not all bucket trucks are made the same. There are many types of boom trucks, which is why you need to choose a bucket truck specific to your industry or problem.
Types of Bucket Trucks
Tables are averages, you can find larger and smaller sizes*
As mentioned above, there are many types of bucket trucks. Before you decide to buy or rent a bucket truck, you should know the pros and cons of each truck. Oftentimes, people want to buy a bucket truck but don't realize how the features of the boom arm will affect them. Don't make that mistake. Understand the height requirements and safety requirements you need for your boom truck.
Telescopic Bucket Truck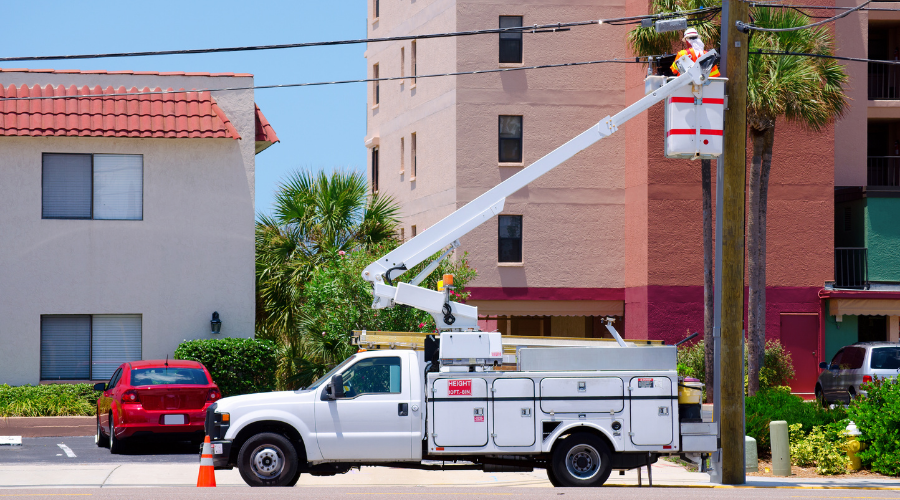 | | | |
| --- | --- | --- |
| Reach | Carrying Weight | Fuel |
| 16ft-62ft | 300lbs-600lbs+ | Gasoline & Diesel Options |
Commonly referred to as "stick booms," telescopic booms start in a horizontal position. Then one side rises into the sky to reach a certain height. Once the operator reaches a certain height, they then will turn the polearm toward the direction of the job. From there, a polearm with a bucket on the end extends outward telescopically (the second part of the arm operates like pulling a telescope to full length.)
A telescopic bucket is fairly simple, it's a long pole that raises in a straight line. It does not contain hinges or multiple boom sections an operator must navigate. For most companies, a telescopic bucket truck works just fine. The downsides to telescopic bucket trucks are that it does not provide as much movement as some other boom trucks. For instance, you could not move in multiple angles to avoid debri while also reaching a specific destination.
Articulating Telescopic Bucket Trucks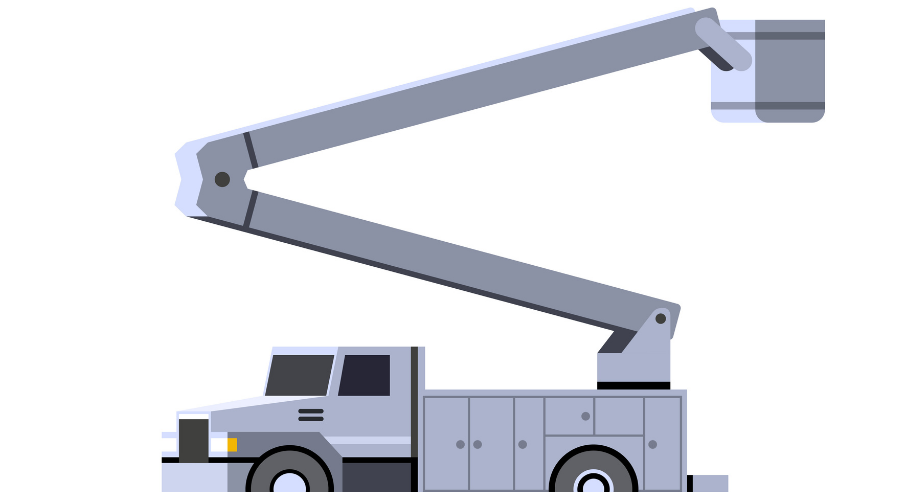 | | | |
| --- | --- | --- |
| Reach | Carrying Weight | Fuel |
| 35ft-44ft | 400lbs-500lb+ | Gasoline & Diesel Options |
Also referred to as "knuckle booms" or "up-and-over booms," the articulating telescopic bucket truck does contain multiple sections of telescopic boom arms. These boom arms do use hinges to move to different angles. These are one of the most common types of boom trucks that you will see because they allow maneuverability. Articulating telescope bucket trucks also work great with navigating tight spots and working in dangerous conditions.
At the same time, articulating telescopic bucket trucks may add a layer of complexity when it comes to navigating the boom arm. Employees will need to receive training on how to navigate the boom arm along with the correct weight distribution limits.
Additional Readings: How Much Does It Cost to Rent an Articulating Boom Lift?
Overcenter and Non-Overcenter Bucket Trucks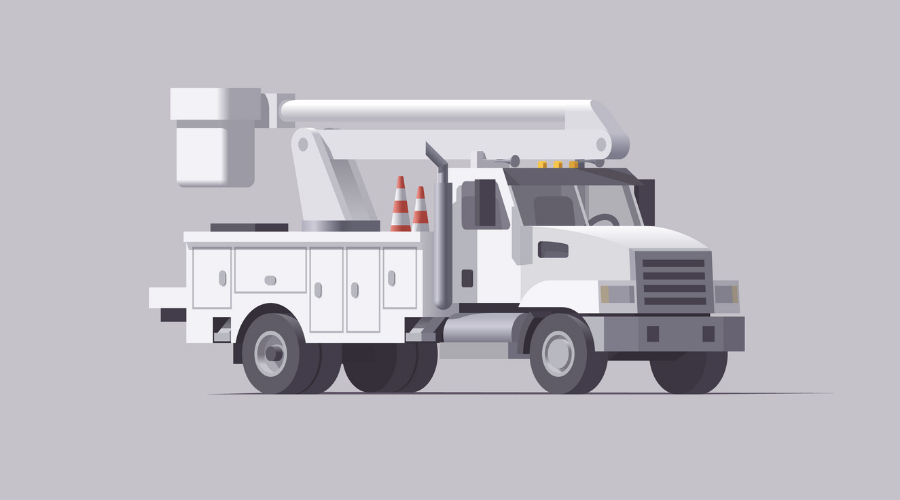 Both overcenter and non-overcenter bucket trucks are articulating. However, they differ in major ways.
Overcenter: Overcenter bucket trucks allow the operator to extend both the lower and upper boom arm out to the side. Giving you more side reach and length. Overcenter bucket trucks allow you to have more flexibility when working on a job site.
| | | |
| --- | --- | --- |
| Reach | Carrying Weight | Fuel |
| 30-52ft | 400lbs-700lbs+ | Gasoline & Diesel Options |
Non-Overcenter: A non-overcenter bucket truck only allows you to move the upper boom arm out to the side. Essentially, you can only gain side reach from that upper boom arm, not the lower boom arm. You can raise that lower boom arm veristically to gain height, however that lower boom arm cannot give you better side reach. This can be perfect for a job that will be completed in one position.
| | | |
| --- | --- | --- |
| Reach | Carrying Weight | Fuel |
| 28ft-60ft | 400lbs-700lbs+ | Gasoline & Diesel Options |
Insulated and Non-Insulated Bucket Trucks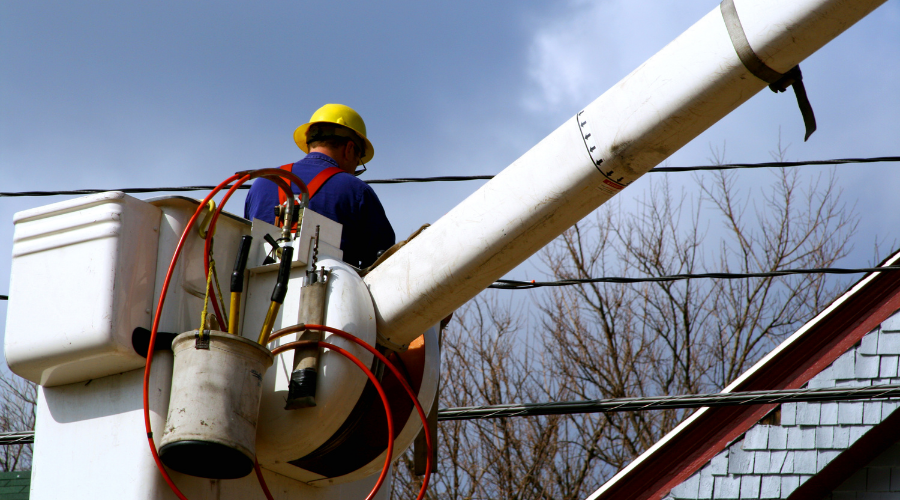 | | | |
| --- | --- | --- |
| Reach | Carrying Weight | Fuel |
| 30ft-45ft | 400lbs | Gasoline & Diesel Options |
Typically, insulated bucket trucks are used by workers in the utilities and in the electrical industry. They are made from dielectric components (meaning an electrical charge will not flow through the material) such as fiberglass. This prevents the conduction of electricity within the bucket and boom.
To put it simply, insulated bucket trucks are designed to keep those who work with electricity safer. They are not a requirement of every boom truck; however, they are very useful in dealing with any electrical job. If you are looking for a truck that can serve multiple jobs and purposes a insulated truck may be the best choice.
Non-Insulated bucket trucks are the opposite. The materials or the bucket and boom will conduct electricity. These are better suited for something like harvesting or forestry.
Material Handler Bucket Trucks
Material handler buckets trucks not only lift operators but also provide space to carry materials or work equipment along with the operator. Material handler trucks also fall under the other category of trucks. Refer to those tables for sizes.
Track Bucket Trucks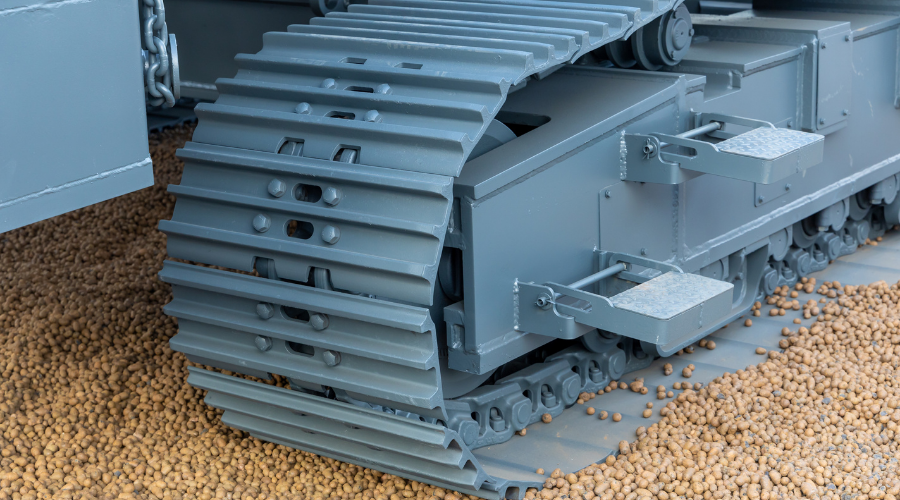 | | | |
| --- | --- | --- |
| Reach | Carrying Weight | Fuel |
| 42ft-60ft | 600lbs-80lbs | Gasoline & Diesel Options |
Track bucket trucks are mostly the same except for one condition. The tires are replaced with rubber tracks, just like you would find on other pieces of construction equipment. This type of boom truck gives you the opportunity to work in difficult terrain or uneven surfaces. Track bucket trucks can be crucial for working on remote job sites. Some also provide unique features and an increased carrying capacity. Still, these types of vehicles are towed to a site or work well being used in one central location. For instance, use around a college campus or dormitory.
Industry Uses:
While bucket trucks may have started in the agricultural industry with "cherry pickers," they have become crucial for many industries. Bucket trucks provide a safe and financially flexible tool to help workers get the job done. Here are some of the common industries and jobs that you will find a boom truck useful.
Telecommunications
Electricians
Farming
Window washing companies
Disaster relief
Construction
Forestry
Government utility institutions
General maintenance
Boom trucks are not just limited to these industries.
Rent or Buy?
Most bucket trucks are expensive to purchase. Ranging anywhere from $20,000 to $200,000+ for a brand-new bucket truck. Yet, there is a vibrant used market for boom trucks. That can considerably lower the cost for you. You'll just need to do you due diligence, like getting the truck inspected before you make a purchase. Do your research before making a choice. Many companies are able to find used trucks that last a long time.
The most common way people use a bucket truck is by renting. The type of bucket truck, the height limit, the weight limit, and the days of rental will all affect the price of a rental.
These prices are rounded averages. You will be quoted a custom price based on your needs.
| | |
| --- | --- |
| Reach Size | Cost (per day) |
| 40ft | $200-$400 |
| 41-49ft | $400-$600 |
| 60ft+ | $600-$800 |
You may also have to pay for delivery fees as well as insurance fees. Some companies will also charge for mileage. If you plan on using a boom truck for only a couple of days, then it would be best to rent. You won't have to worry about spending so much money, nor finding long-term storage.
However, if you are planning on using the device every day then it will be cheaper to buy in the long run.
Think you are ready for a bucket truck for your business? 360Connect can help you find the perfect bucket for you down below.
Related Readings:
Don't forget to check out our renter's guide on forklifts.