Access Control for Hotels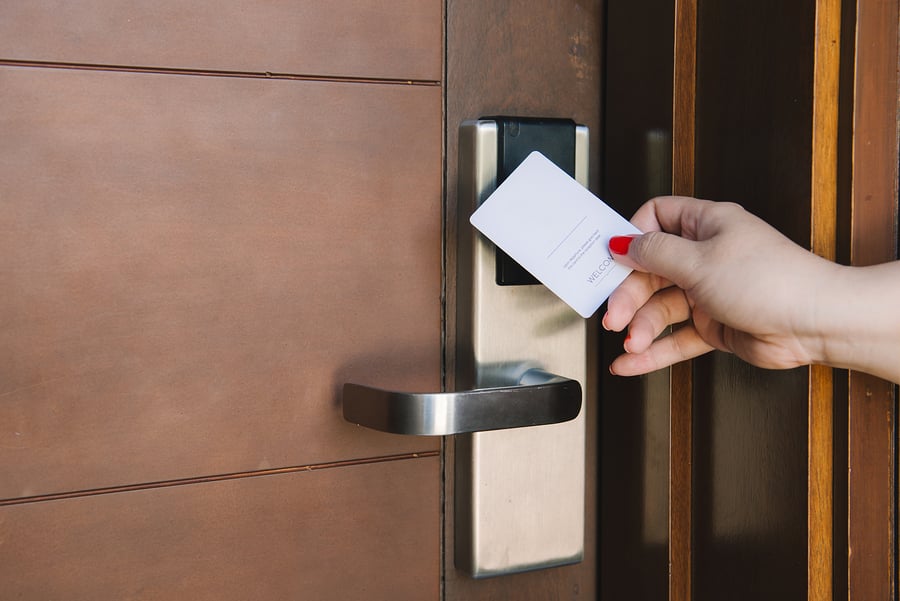 Why do Hotels Need Access Control?
These days, it's crucial for hotels to use an access control system. The hotel staff has to assure their guests that their rooms and belongings will be secure at all times. Additionally, the business must protect sensitive and restricted areas within the building – including:
Guest rooms
Reception counters and cash registers
Offices with financial information
Guest amenity areas
Safes within the guest rooms
Elevators
Control rooms
Storage rooms
Private staff computer networks
And more
Benefits for Hotels
Hotels have tons of assets to keep track of at all times. An access control system can help hotels have oversight over the entire property in many different ways.
High-grade security
Hotels need to make sure everything is safe and secure within the hotel property. This ranges from entryways, computer networks, and various hotel assets across the whole property. To maintain a high level of security, using a traditional lock and key access system just wouldn't do the job! Access control systems allow hotel owners to maintain security digitally and reduce security risks.
Automation
Most hotels use access control systems to record and store information digitally and automate check-ins and check-outs. For example, having a hotel access control system lets staff easily and safely grant access to each guest room when a guest checks in. All the staff has to do is enable or disable each room digitally. This helps hotel admins facilitate the check-in and check-out process as well as efficiently manage all rooms.
Wireless
Access control systems are so convenient for hotels because they are wireless and easy to use. This can help the hotel staff easily access all rooms as they are on-the-go. It also boosts the guests' experience, as it helps them seamlessly enter their room and other amenities within the hotel.
Which System is Best for Hotels?
Figuring out which type of access control system is the best for your particular hotel depends on your business's security. Not every form of access control will make sense for every hotel.
Discretionary Access Control (DAC)
Some hotels are local or privately owned – including only 1 or 2 different sites. This hotel would likely have a single group of stakeholders or admins. Therefore, they would probably want immediate access to their security preferences as well as change access permissions as needed. The best system for this kind of hotel would be a Discretionary Access Control (DAC) system, which allows admins to change settings on-site.
Mandatory Access Control (MAC)
Many hotels are international businesses and have 100's of locations and branches. Because of the larger nature of this hotel business, they would most likely need a Mandatory Access Control (MAC), or a system where settings are programmed, maintained, and monitored off-site. Many hotels with MAC systems get real time security updates about multiple hotel branches, so they can prevent security risks. That way, they can enable consistent access control policies across all of its hotels and have high-level oversight over security.
Role- and Rule-Based Access Control (RBAC)
There are also rules and settings a hotel can set to make operations run more smoothly. For example, the hotel might implement Role-Based Access Control to allow certain hotel staff members to access certain areas while restricting others. They might use Rule-Based Access Control to prevent guests from entering certain areas or rooms during certain hours of the day.
Which Forms of Authentication are Best for Hotels?
When choosing access control systems for hotels, owners must choose forms of authentication ("keys") for guests. When doing so, they should consider convenience and ease of use. New technology is introducing convenient access control methods to hotels lately. Here are some of the top types to use:
| | | |
| --- | --- | --- |
| Type | Description | Best uses |
| Integrated | A "smart handle" with a locking system and card reader. The guest enters their card that has a magnetic strip, which cues the lock to release. Then, the guest can use the handle to open the door. This system does not rely on electricity to operate. | Hotels that want a simple, easy to use, and inexpensive security system that will work even without electricity |
| Classic | Uses a "proximity" card reader (RFID) which does not require a "smart handle." The guest holds the card close to the card reader, which cues the door to open. This system requires electricity to operate. | Hotels that want a more "updated" but easy to use system. |
| Wireless | Works much the same as a classic system, but allows hotel staff to quickly change configuration and change access permissions remotely, with the touch of a button. | Fast-paced or high volume hotels that need to quickly reconfigure access keys. |
| Mobile | Guests can download a mobile app to their smartphone, which digitally allows access to their room. | Hotels that want to provide the latest form of technology for their guests. |
Additionally, some hotels want a higher form of security for financial information, computer networks, and back rooms. They may choose to set up a more complex access control system for staff. Biometric readers - including finger and palm print scans - can be higher forms of security for these areas.
Top Suppliers
There are lots of access control suppliers who cater to hotels. When doing your research, it can be tricky to figure out which supplier is the best for your hotel. We're here to help with our list of top suppliers for hotel access control systems.
Supplier
Top Benefits
Best For:
SALTO
- great reputation in the hospitality industry
- known to improve guest experience and hotel management
- key-less electronic access and mobile solutions
Attractive, sleek design
Zaplox
- Global availability
- Implements mobile app to allow guests to easily access rooms
Smartphone access
Intelity
- Streamlines check-in process
- Reduces guest wait time
- Guests can choose to use "mobile key" via mobile app or on its own
Flexibility in key entry methods
Onity
- Superior "smart card" technology
- Incorporates energy-saving methods
- Many systems include in-room safes
Highly secure swipe cards
Dormakaba
- Flexible installment, designed to fit multiple glass fittings and door systems
- Multiple key entries available
- Includes various workforce management tools
Workforce management add-ons
Getting Started
If you're in need of an access control system for your hotel business, 360Connect can help. We have a vast network of access control suppliers that can accommodate different business needs and can answer any questions you have about securing your hotel property. To get free price quotes with zero obligation to buy, get started here.