Office Access Control Systems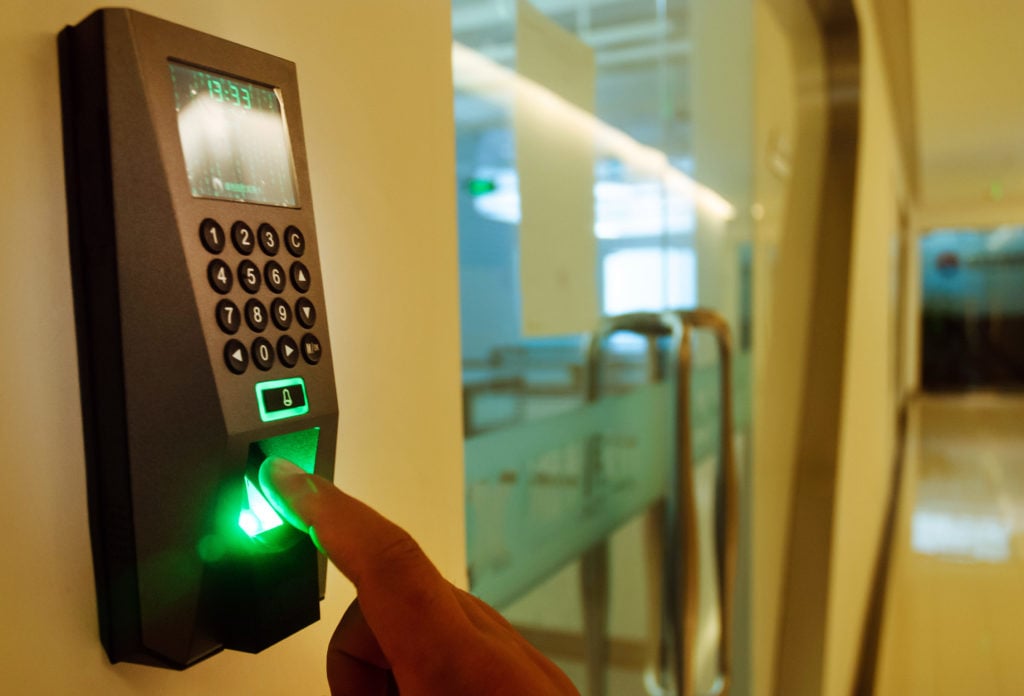 Why do offices need access control?
Plain and simple, every business needs to invest in a security system for their building and business assets. Today, businesses have two security choices: an access control system or traditional lock and key method. Compared to a traditional lock and key method, office access control systems are more reliable and better reduce security risks. They can prevent trespassing, theft and vandalism, and even online hacking. Access control systems make it easy for business owners and admins to monitor access to their building or computer network. Basic lock and key methods can't do this at all.
How to decide on the best type for your business
Many companies see the value in an office access control system. But they don't know how to decide which is the best fit. This is where we can help. There are many different options to choose from when it comes to access control. We can walk you through your options and help you decide on the best system for you!
Your unique office environment will indicate which system is the best choice. More specifically, think about all the people in your office that will use the access control system in your office. There are three groups of people in your office and their needs that you should think about when deciding – employees, business owners and admins, and your IT team.
Business owners and admins
The first step is thinking about a high level overview of the business's security needs. What industry are you in? What are the security expectations and requirements in your industry?
For instance, maybe your business is a medical facility and you are required by law to keep patient documents secure. Or maybe your business is a marketing agency, and you're looking for a security system for your front doors that's a little more advanced than a basic lock and key. Whatever your needs are, your business stakeholders can determine the level of security you need to obtain from the office access control system. They'll also understand laws and regulations needed per industry or field.
Typically, if you have high-level security needs, you might opt for biometric readers or voice recognition systems. They can reduce the risk of unauthorized persons from accessing to almost 0. If you have standard security needs, you might look for simpler systems like card readers, keypads, or key fobs.
Employees
Second, you have to consider the people who will use the office access control system day in and day out – your employees. Think about which authentication methods will be the best fit and which they will be most comfortable using.
There are lots of options for access control authentication to choose from:
Keypads
Access cards
Key fobs
Mobile apps
Fingerprint readers
Palm scanners
Face readers
Retina scanners
DNA scanners
Some employees prefer the benefits to mobile app flexibility. For instance, you don't have to worry about losing anything, since it's stored on the cloud. Others prefer more simplistic methods like fey fobs and access cards that you can carry with you. It depends on the nature of your workplace and your employee's daily habits.
IT Team
There are a few operational decisions you have to make when you start up your system. Your IT team can help you decide how to host your access control system. They will have to ask questions like: how often do we need to make changes to our security preferences? Do we need immediate access to system at all times?
You have a few choices when it comes to technical management of the system:
If you host the access control system on-site, your tech team has immediate, around-the-clock access to the system. They can keep track of who is entering and leaving the building (or accessing your network). They can also detect whether there's a security threat in real time or make changes to access permissions as necessary. For instance, if you need to block off access to a certain room whenever you'd like, it would be best to host on-site.
You can choose to have a service provider manage hosting for you. With this option, you don't have to spend the time and effort overseeing the system and performing maintenance. You pay the provider and they manage the entire system - including distributing cards, key fobs, or whatever authentication method you choose. You can also usually obtain security reports from them as often as you would like. On the other hand, you do not have immediate access to the system's database. For example, if you need to edit your security preferences, you have to contact your provider to have them do it.
Web-based hosting is the most flexible way to host your system. Rather than running access control through a server, you run it through your company's Internet network. This allows authorized admins to edit security preferences from anywhere in the world. However, some businesses hesitate to choose a web-based system. They worry about security concerns, since all data is stored in the cloud.
Getting started
Once you gather ideas from all three groups of employees that will be using the access control system, you should be ready to make a decision! Remember to consider security needs from a business owner's perspective, convenience from an employee's perspective, and management from the tech team's perspective.
If you're ready to take a look at your options for security systems and want to compare price quotes, we can help! 360Connect has a trusted, reliable network of top access control suppliers that offer different types of systems to suit any kind of business. To get free price quotes with zero obligation to buy, get started here.
By the way, if looking for high level security and want to enhance your security measures, look into video surveillance for your building as well.