A Wide Format Printer And Plotter Buyer's Guide
Introduction
---
Every business has different printing needs. For some, print jobs are mostly internal. If your business has limited oversized print jobs, it makes sense to send the jobs off as needed. But if you regularly print jobs that are over 2 feet wide, you might want to consider a Wide Format Printer. Wide format printers, sometimes incorrectly called Plotters, can print wide in color or black and white on many different types of material. They can print widths of 24" to 60" or more.
Print and design shops use wide format printers for the following:
Signs
Large-scale banners
Textiles
Custom fabric orders
Outdoor graphics
Blueprints
The 360Connect Wide Format Printer Buyer's Guide will educate you about the following:
Toner vs. Inkjet
Configurations
Features
Price Estimates
Maintenance and Service
Choosing a Supplier
Once you've had a chance to review all the information, if you're ready to make a purchase, we can put you in touch with wide format printer suppliers.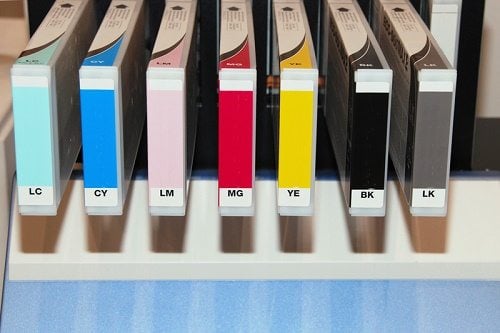 Toner vs. Inkjet
---
There are two types of wide format printers:
Toner
Inkjet
Toner wide format printers fuse toner to the paper using heat from a drum to transfer dry toner to the print surface. Inkjet wide format printers spray droplets of ink onto the paper, moving the droplets through a fine mesh head by using heat.
Which is best for my business?
It depends on your industry. Wide format printers are commonly used in graphic design and the AEC (architects, engineers, and construction) industry. Here is a general rule of thumb:
Inkjet
If you work in graphic design, you will likely prefer an inkjet printer because you will be printing a lot of colors. A color inkjet wide format printer can print high-resolution images on various materials in color.
Toner
If you work in the AEC industry, you will likely prefer a toner wide format printer. They are great for computer-aided design (CAD) applications. They're also faster than inkjet and are better at handling large printing volumes.
In the charts below, you will find a comparison of printer uses as well as the pros and cons of each type.
Inkjet vs. Toner Application
Toner Pros and Cons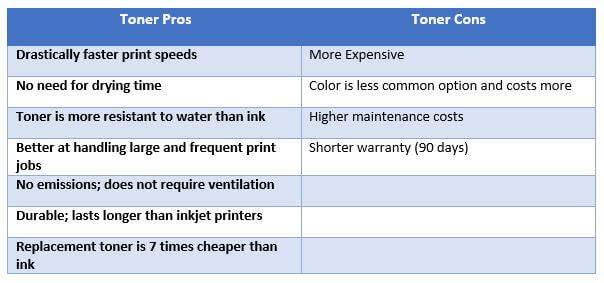 Inkjet Pros and Cons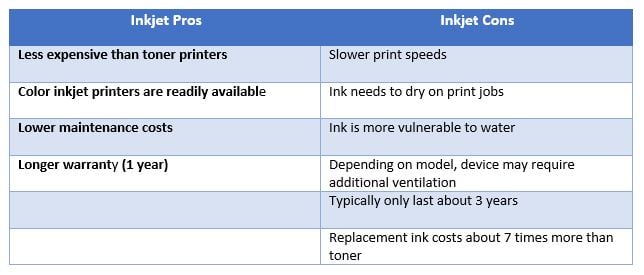 Configurations
---
Size
Once you've determined if inkjet or toner is best for your needs, next you will want to consider size. Wide format printers come in models that can print the following sizes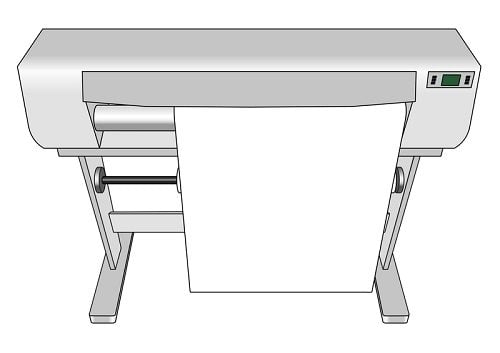 The most important factor in determining what size printer you need is the size of the materials you will be printing. Wide format printers print on rolls of paper that are up to 300' long or individual sheets of paper that are fed into it.
For engineering applications, 36" is the standard size. A 36" wide format printer is large enough to handle any construction document thrown its way. When choosing a size for a graphic design company, there is a wide selection. Determine your size based on the type of project you typically print or anticipate printing. For example, if you print large-scale projects, such as huge outdoor banners, there are printers as big as 16' wide.
Print Quality
Another important factor to consider is the quality of print that you want. All of the following influence print quality:
Resolution
Droplet size
Number of ink cartridges
The resolution has to do with the dots per inch of an image being printed, but more critical than that is the droplet size of the ink. Smaller droplet sizes will mean higher quality prints because there are more passes to achieve full coverage. Also, the more ink cartridges, the higher the quality will be. A 12 ink printer will produce higher quality images than a 5 ink printer.
Request A Sample
The best way to evaluate print quality is to view a sample. Be sure to request that the sample is printed on the same type of paper with the same format you will be using in your office (vinyl banner, blueprint, etc.). Print quality will vary, depending on the type of paper and format.
Note: Most suppliers will mail you a sample print job on the material of your choice. Be sure to request this before committing to a purchase.
Print Speed
Depending on the type of print jobs you have, speed is another important factor to consider in your buying decision. The speed of a toner printer is measured by how many D size prints it can print per minute. A D size is 24 x 36 inches. It is the most commonly used size. The speed of inkjet printers is measured by how many square feet they can print per hour or minute.
When comparing speeds, take into account what speed you are getting with the quality of the print. Most printers can print faster at a lower quality. If you need high-quality prints, you don't want to invest in a printer with the fastest speed out there. Decide on the level of quality you want, then consider speed.
If you print 2,500 D size prints or more per month, you will want a toner printer to keep up with your volume.
If your print volume is low, an inkjet printer will work for you.
In terms of "printed and ready," inkjet prints will need time to dry, but toner prints will be ready immediately.
Print Features
Another important factor to consider is the type of print features that are included. Common features include: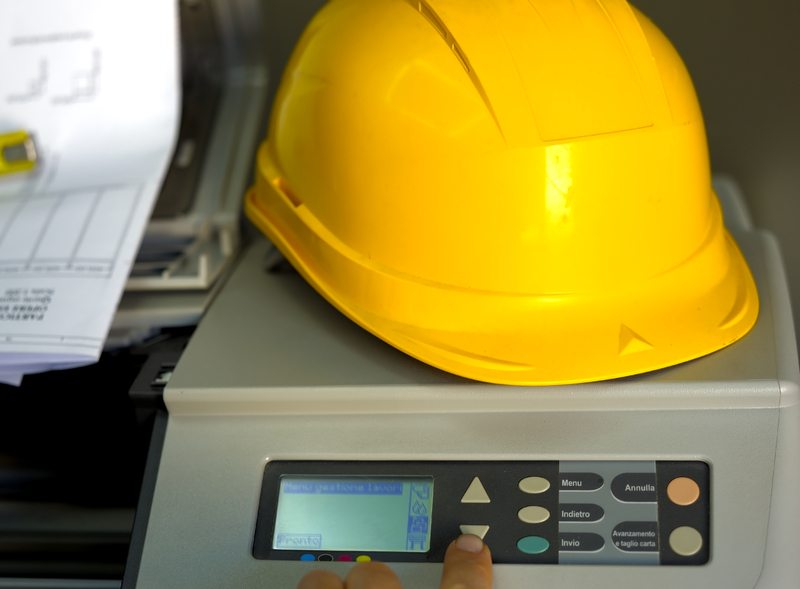 Copying: makes specified number of document copies
Scanning: scans copy of the document (blueprints, graphic designs, etc.)
Built-in Accounting: bills print to specific projects or clients
Built-in Paper Cutter: automatically separates each print from roll of paper
Multiple Paper Widths: holds more than one size roll at a time to allow for printing of different sized documents
Media Bins and Catch Trays: automatically sorts and distributes prints without having to supervise the job
Color Scanning and Color Mark-ups: used for "as built" plans and notations
Scan and Save: allows you to save and recall your scan job at any time
Consider the needs of your business when deciding which features to include. Some features are designed for very specific jobs that you may never use.
Price Estimates
---
In the world of wide format printers, you will notice a pretty wide range in price from one printer to the next. This is due to a number of factors (listed below), but keep this in mind:
Toner printers are more expensive, but last 5 to 10 years.
Inkjet printers are less expensive, but last 3 to 4 years.
A toner wide format printer will cost you more upfront, but it will save you money in the long-term because it has a longer life span than an inkjet. Also, replacement toner is about 7 times cheaper than replacement ink. Similarly, an inkjet will cost you less upfront, but it won't last as long as a toner and you will end up having to buy a whole new printer in 3-4 years.
Tip: If a toner printer is too expensive or you don't have a long-term need, then you might consider an inkjet. If you are looking for the best long-term investment, then a toner printer is the way to go.

Other factors that affect price include:
Size
Resolution
Accuracy of color reproduction
Rolls
Stands
Installation
Brands
Geography
Cost estimates for different brands of wide format printers:
Used Toner Printers
The technology used in toner equipment hasn't changed much over the years. Since toner wide format printers are more durable and last longer than inkjet printers, there are plenty of used toner printers on the market. If you are looking for a toner printer but can't quite handle the cost of a new model, a used printer is an excellent alternative. Some suppliers will offer the same warranties and service agreements that they offer with new machines. Used toner printers can last anywhere from 5 to 7 years.
Price of Consumables
Once you've paid for your wide format printer, you will still need to purchase replacement parts on an as-needed basis. Ink or toner must be replaced as needed. Ink is more expensive than toner. Other consumables like paper, however, will cost about the same price for inkjet or toner. Some suppliers offer a fixed rate of cost per square foot on paper, toner, and service.
Leasing
If purchasing a wide format printer is not financially feasible, leasing is a great alternative. With a lease, you can get a printer for a low monthly fee. The service and maintenance are included. Most lease contracts allow you to upgrade to a newer model at a low cost. If you are also buying an office copier from the supplier, DO NOT bundle it with the same lease as your wide format printer. The life cycles of the two machines are too different. Also, don't combine your lease to purchase with the service agreement. You will be tied to that vendor and machine, and the vendor could inflate the service charges from the financing.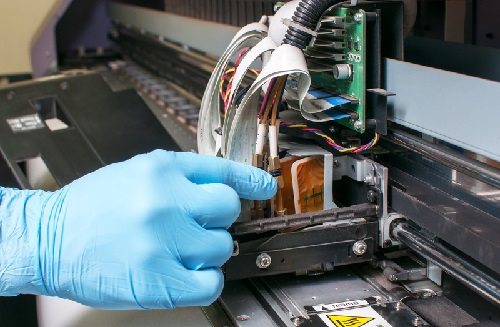 Maintenance and Service Agreements
Like most equipment that gets frequent use, wide format printers require maintenance which includes:
Cleaning
Inspection
Replacement parts
Your printer will last longer and run more smoothly if it is well-kept with consistent maintenance. Depending on the service agreement you get from your supplier, it may only cover repairs. Other agreements include things such as toner, drums, replacement parts, and visits from a technician. Ask for details about the service agreement BEFORE you buy.
Whether you decide to purchase a toner or inkjet printer, you will need to periodically download software upgrades. That should be included in your service plan.

A service agreement is usually priced out by printed square foot per month. (Think of it as a service agreement on a car that's based on mileage). If you aren't familiar with wide format printing or if your printer will be used on a regular basis, you will want to purchase a service agreement.
Choosing a Supplier
---
Once you are ready to buy a wide format printer, make sure you choose a reputable supplier who will offer a quality purchasing experience.
Here are some things to consider:
Customer service
Technical support
Hours of availability
Years in the business
Expertise
References
At some point, you will need a technician to service your printer, so you want to make sure you are getting high-quality service. We recommend that you check references to get an idea of how the supplier treats their customers. Pay attention to their knowledge level, their responsiveness to your questions, and their ability to solve problems. If your print jobs are done during unusual hours, find out the supplier's hours of availability.

Make sure that you choose a supplier who specializes in wide format printers. There are a lot of suppliers out there who are selling wide format printers, but it's not necessarily their area of expertise. You want a supplier who fully understands the machine and knows how to resolve any issues that come up.
Ready to make a decision?

Now that you are educated about wide format printers, are you ready to make a purchase? If you fill out our form, we can put you in touch with up to 5 wide format printer suppliers who will give you free price quotes and answer any further questions you may have. There is no obligation to buy.
Ready to buy a Wide Format Printer And Plotter?