Benefits of Coffee Service
---
It may just be a little black bean, but it is cultivated in over 70 countries and most working Americans can't start their day without it. We are, of course, talking about coffee. A whopping 78% of American adults say they drink coffee, according to a 2015 study by the National Coffee Association (NCA). That same study cited that 59% of American adults drink coffee every day.
Armed with the knowledge of how much your employees love coffee, an Office Coffee Service is an easy and inexpensive way to boost morale and increase productivity at your company. Office Coffee Services are simple. A coffee service provider brings a variety of hot beverage options to your company at a reasonable price. They may also offer advanced brewing equipment. You determine how often you need supplies delivered. Delivery technicians will come to clean and service the equipment as needed.
The benefits of providing free coffee to your employees include:
Time saved: Employees do not have to leave the worksite to get coffee.
Morale boost: Employees tend to feel more appreciated when coffee is provided.
Increased productivity: A cup of coffee can stimulate an employee's mind, helping them focus on their work and be more productive.
Money saved: Happy employees, who spend more time at the office working productively, will ultimately lead to cost savings in labor.
Whether your business is a tech startup or a massive corporation, an office coffee service can have a positive impact on your employees. This guide will walk you through your options and educate you about the following:
The types of coffee and beverages available
The types of services available
The equipment you'll need
The estimated cost of office coffee service
Once you have educated yourself about all the available options and benefits of an office coffee service and are ready to make a purchase, we can put you in touch with up to 5 reputable office coffee suppliers. They will provide you with free price quotes and answer any questions you may have.
Coffee Brands and Types
---
Coffee has become a highly competitive industry. The quality of coffee has to become increasingly important to consumers. Office Coffee Services have adapted to this change in consumer tastes. They work with local and national brands to offer a variety of options, including regular and decaffeinated coffee. They may also offer various flavors, gourmet options, and organic options from trustworthy brands, including:
Starbucks
Dunkin Donuts
Krispy Kreme
Green Mountain
Javarama
Wolfgang Puck
Lavazza
Peet's
Barnie's
Alterra
Caribou
Highland Estates
Luzianne
J. Traders
Condiments
Office coffee suppliers know that no two people are alike. Some people like their coffee black, while others like a little bit of coffee with their cream. Everyone drinks coffee in a different way. Many suppliers provide the necessary creamers, sweeteners, and stirrers so that each cup can be made to the exact tastes of a specific individual.
Other Snacks and Beverages
---
Office Coffee Services can provide more than just coffee. For the non-coffee drinkers in the office, a nice variety of teas is important.
There are various tea options from brands such as:
TAZO
Celestial
Starbucks
Golden Leaf
Luzianne
Stash
Yogi
Bigelow
Some office coffee services also offer:
Apple Juice
Orange juice
Cranberry juice
V8
Hot chocolate
Instant coffee
Water
Foods
Most office coffee suppliers provide more than just beverages. Many offer snacks, oatmeal, instant soups, or pre-packaged meals. According to a 2011 NPD Group Survey, 31 million Americans skip breakfast every day. It's no secret that breakfast is the most important meal of the day. By providing your employees with food options, you could be giving them much-needed fuel to kick-start their morning into high gear.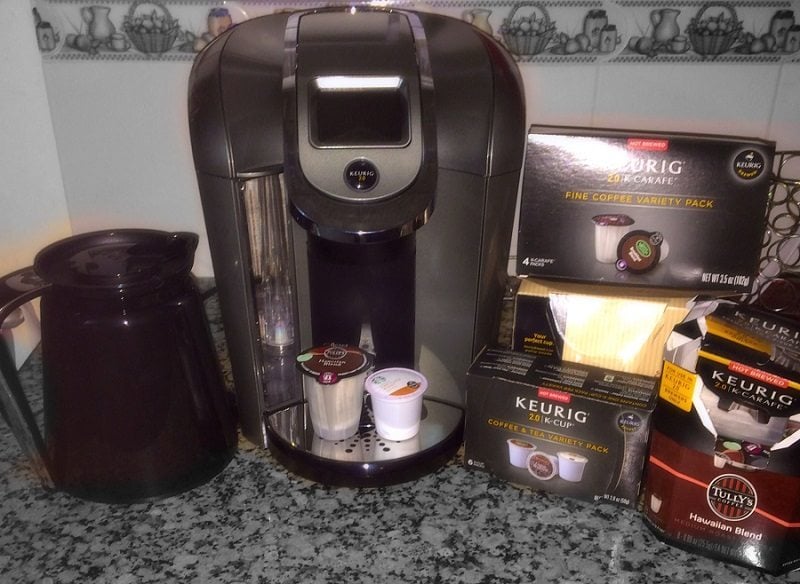 Equipment
---
When you sign up for an office coffee service, the supplier will typically include any necessary brewing equipment for no additional charge. The equipment is yours to use for as long as you continue to use the service. In order to be eligible for the free equipment, you may have to order a certain minimum amount of product each month. This will save you any upfront cost of purchasing your own brewing equipment, which can range from $100s to $1,000s, depending on the size and complexity of what your office needs. If your office does not need the minimum requirements, you may have to pay a monthly rental fee.
There are various types of equipment available, including:
Standard glass carafes
Vacuum-sealed thermal carafes
Single-cup dispenser units
The brewing systems may be able to connect directly to your water line, providing a constant source of hot water. You may have to pay extra for start-up costs for installation and replacement cartridges every few months. However, the access to hot water means faster brewing and time saved.
Glass Carafes
With a glass carafe coffee maker, coffee is brewed into a glass carafe that holds about 12-14 cups of coffee. Features will vary. For example, some devices have a "pause and serve" feature, allowing you to temporarily pause the brewing so that you can serve a cup at a time.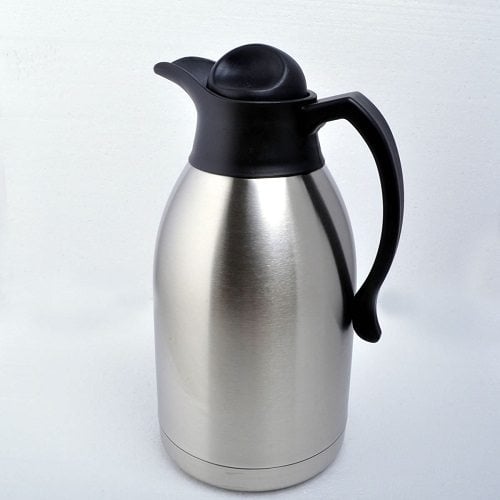 Thermal Carafes
With a thermal carafe coffee maker, coffee is brewed in much the same way as with a glass carafe. The main difference is that the thermal pot is designed for slow evaporation in order to keep the coffee at its prime temperature for a longer amount of time. If your employees visit the break room at various times throughout the day for coffee, a thermal pot may be the way to go. Thermal pots generally hold 10 to 12 cups of coffee.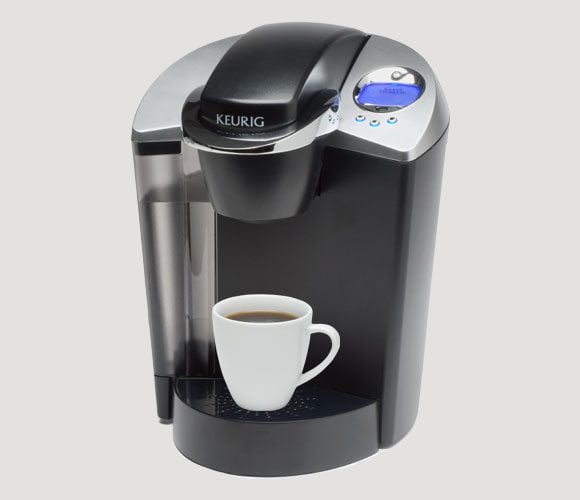 Single-cup Units
Single-cup dispenser units have become increasingly popular in recent years. Rather than brewing one big pot of coffee for all your employees, these machines brew 1 cup of coffee from individual fractionated packs "frac-pacs" or the Keurig's "K-Cup." Some of the advantages of using a single-cup dispenser unit include:
Easy clean up
Coffee brewed as-needed by individual employees
Consistently fresh for each individual
Variety of flavors and brands
Individual tea selection also available
Fast, taking just 1 minute to brew a cup
There is a downside. The single-cup dispensers are more expensive than a glass carafe or thermal pot. They can cost as much as 4 or 5 times more than a standard cup of coffee. If employee satisfaction is your goal, most people prefer the single-cup dispensers. The single-cups come in various gourmet flavors, allowing your employees to brew one cup of fresh coffee for their specific tastes.
Types of Office Coffee Suppliers
---
When it comes to choosing where to get your office coffee, there are 3 different kinds of suppliers.
National companies
Local "mom and pop" companies
Online companies
National Office Coffee Suppliers
The office coffee suppliers operating on a national level bring years of experience to the table. They can aid you in your decision process and will likely have the largest selection of flavors and brands available. The downside? They tend to be the most expensive option.
Local Office Coffee Suppliers
If you want a more personal relationship with your office coffee supplier, a local outfit is likely your best option. The equipment and flavors they offer may be a bit more limited, but their prices tend to be lower.
Online Office Coffee Suppliers
If the price is your single greatest concern, you will probably find the best price by signing up for an online office coffee service. The downside is that brewing equipment options may be limited and the available terms may not be as ideal as with other suppliers.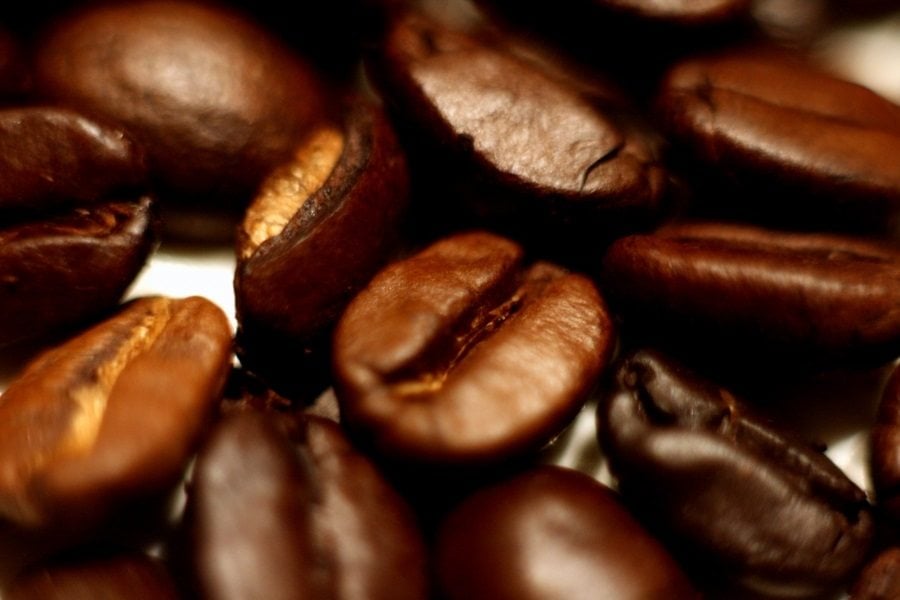 Things to Consider When Choosing an Office Coffee Supplier
---
When deciding who is going to supply your office with its cup of Joe, there are a few things you'll want to consider.
Taste
Price
Inventory
Availability
References
Customer Service
Taste
Remember, one of the benefits of providing coffee for your employees is to boost morale. You're not going to win over your team if you supply them with cheap coffee that tastes terrible. If they don't like what you provide, they may not even drink it, which means they will be leaving the office to go get coffee elsewhere. Fortunately, office coffee suppliers will provide you with samples of the flavors they offer. Some suppliers will even host a tasting party. Your employees will be able to try the different coffee and beverage options, allowing you to provide what they like.
Price
Obviously, the cost will be a factor in your decision. However, we highly recommend that you not base your decision solely on price. Your goal should be to provide quality coffee to your employees from suppliers with good customer service. The lower the price, the lower the quality of coffee and service you will be purchasing. You may also get stuck with poor equipment. Cost should be part of the equation of your decision, but not the only guiding principle.
Flavor/Beverage Inventory
If your employees are particularly picky, make sure the suppliers you pick can provide the types of flavors and beverages they like. The available brands and flavors will vary from supplier to supplier.
Availability
How quickly the service can be set up may be a factor when making a decision. Many suppliers can get you up and running in 1 business day. But certain equipment may have to be ordered, which can take 1 or 2 weeks.
References
It's generally a good idea to get references from an office coffee supplier you are considering. Asking for references in your area would be ideal. Nothing beats first-hand, word-of-mouth from a current customer. If the supplier has a website, you may be able to read customer testimonials online as well.
Customer Service
The level of customer service provided should be a strong factor in your decision process. You want to build a healthy relationship with the supplier you choose. Look for service that is friendly, prompt, and flexible.
Office Coffee Service Prices
---
The price you will pay for an office coffee service will vary based on the amount and quality of coffee you choose to purchase. It is difficult to give an exact number because every business has unique needs, but we can provide you with an estimated range of real-world prices.
Price of equipment
Free – some suppliers will provide equipment completely free during your service agreement
Minimum monthly purchase – some suppliers will not charge extra for use of equipment during service agreement, so long as you meet a specified minimum purchase amount each month
Monthly fee – in some instances, suppliers will require you to pay a rental fee for the equipment. The average price of the rental fee is $30 to $50 per month.
Price of Office Coffee
Before signing up for an office coffee service, you'll want to make sure you can afford it. The price you spend on coffee per employee will vary, but a good estimate is $50 to $125 per employee in 1 year. In the chart below, we've broken down the estimated cost of typical items offered by office coffee suppliers.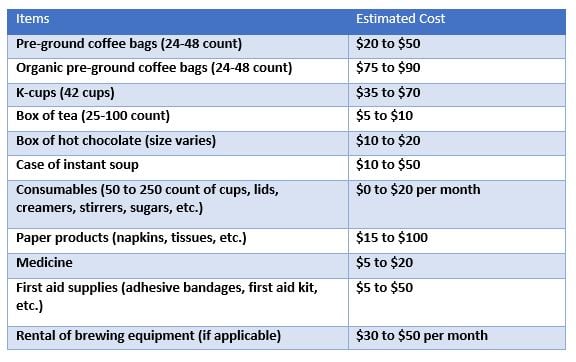 Depending on the needs of your office, your annual cost will vary. When comparing office coffee suppliers, take price into consideration, along with the quality of coffee and service. Some of the prices that suppliers provide are fixed, but others may be negotiable. It never hurts to ask for a better deal when negotiating the cost of your service.
Ready to make a decision?
Now that you know about you know the benefits of providing coffee to your employees, as well as the various options and price estimates, are you ready to get real-world prices? If you want to find out an exact estimate of what office coffee services will cost for your business, we can put you in touch with reputable office coffee suppliers. They will give you free price quotes based on your specific needs and answer any questions you may have. All you have to do is fill out our form.