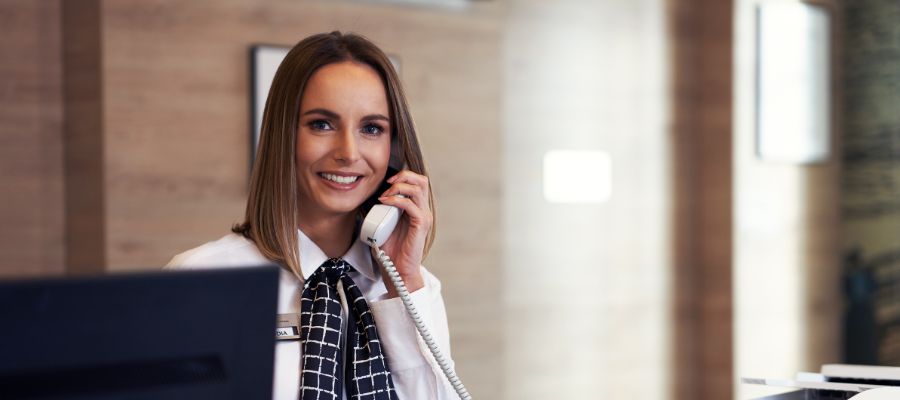 Hotel phone systems are a vital part of the hotel business. They are a critical tool for communicating with customers and improving your marketing efforts. In the past, hotel phone systems used to be a large source of revenue with long-distance calling charges. However, the game has changed. This source of revenue has dried up for hotels and customers are demanding better ways to communicate with businesses. An analog system isn't keeping pace with better digital alternatives.
Phone system technology has made large strides in technology and can often be more for less even. However, choosing the right platform and partner can make all the difference.
What Are Hotel Phone Systems & How Have They Changed?
In the past, most hotels would use analog phone systems to take customer calls and then would then input this information into the PMS (property management system). Sometimes, they may be able to automate part of this process away, but most of the time it had to be done manually. Hotels would use an analog PBX system with individual phones in each room. Hotels then pay for the specific lines that need to be hooked up to the hotel. This system was costly and required extensive time and expertise to set up.
Changing Systems
Nowadays, most hotels use an internet-based phone system. In this type of system, calls are made over the internet rather than over copper wires or optical fibers used in analog phone lines.
Internet-based phone systems are usually one of two categories: in-house or cloud-based.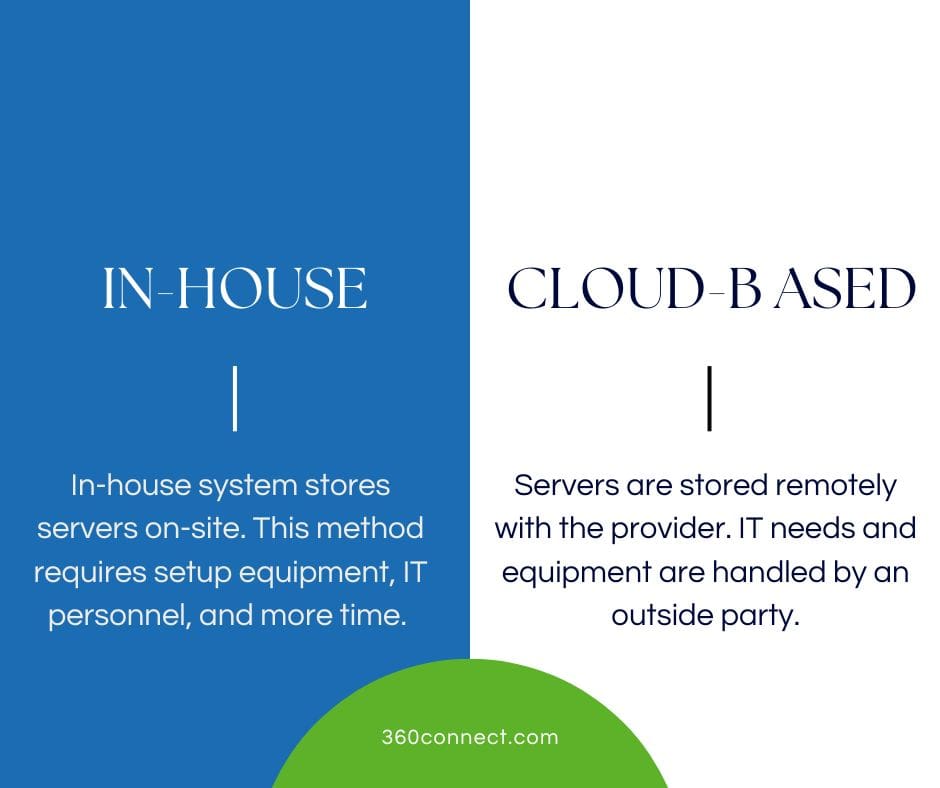 The cloud phone service is hosted in one or more secure data centers located off-site. Many cloud-based hotel phone systems allow for better integration with PMS and better communication tools.
Technically, you could host an internet-based phone system on-site, however, this requires more money, equipment, and personnel. It's not useful unless under specific circumstances. Most businesses will opt for a cloud-based system.
You may see cloud-based phone systems labeled into different categories, however, many of these systems conduct the same exact functions in slightly different ways.
VoIP (voice over internet protocol):
This was the original term used for internet phone services and is still used today by some companies. VoIP uses computers and internet-adapted phones to make calls over the internet. Many businesses use VoIP systems to handle all of their phone needs.
PBX/Virtual PBX (private branch exchange):
Legacy systems used by hotels were analog PBX systems. These systems used multiple devices, terminals, and switches, to complete the phone duties a hotel needed. These days, PBX now has internet capabilities. Often referred to as "virtual PBX" or "hosted PBX," these systems take all the functions of a PBX and streamline them through the internet. There are technically four different types of PBX systems, however, we will be focusing on a cloud-based PBX for the purposes of this article. With some providers, you can even convert analog systems into a virtual PBX systems.
4. Benefits of Cloud-Based Hotel Phone Systems
There are many benefits to cloud-based hotel phone systems. Many companies come to rely on these phone systems to produce better marketing and better ROI. Here are some of those benefits.
1. Cheaper Pricing
Firstly, cloud-based hotel phone systems are cheaper because they require much less investment to install. Analog systems require a phone line to be put in for each system, which can be much more labor-intensive and cost-producing. Cloud-based systems can hook up room phones through an ethernet cable. Cloud-based hotel phone systems can also be cheaper because they are usually bundled with other services at a much lower rate.
2. Pay Monthly or Annually
With old legacy hotel phone systems, companies were locked into costly setup procedures, minimum equipment buys, and long-term contracts. With cloud-based phone systems, this isn't the case. You can pay monthly, yearly, or sign a multi-year contract. Additionally, there are options on the market that can do both ethernet phones and analog phones. You don't have to pay more for new phones when you can update your analog system.
3. Data Automatically Logged
Older phone systems may be able to log some information about phone calls, but cloud-based phone systems can go much more in-depth. From the length of calls to categories, you can have in-depth information such as:
Inbound call volume
Outbound call volume
Call time
Hold times
Answer rate
Call logs
Callback times
After-hour notifications or calls'
Open rates for messages
And so much more!
Communication analytics can become a critical tool to gauge your marketing effectiveness and how your business operates.
4. 3rd Party Integrations
Top providers of cloud-based phone systems also allow for 3rd-party integrations with their software as well. This is huge for the usage of PMS, but also can be used in unique ways like combining the calling system with your marketing software. While the integrations will depend on the supplier, you can have access to multiple applications all in one dashboard.
4 Features of Hotel Phone Systems
Again, there are many different types of cloud-based hotel phone systems all with their own features and benefits. However, there are some key features that you will find across suppliers and very helpful for hotels.
Integration with PMS
Hotels live or die by their PMS. Many cloud-based hotel phone systems can integrate with a PMS and can be instrumental in their business. Instead of manually inputting data or switching between multiple applications, you can do tasks like closing phone lines, call monitoring, built-in room status, and more all from one application.
Chat Features of Cloud Phone Systems
Many cloud-phone systems offer chat features for employees to keep in contact with one another. This makes it much easier for staff to communicate as well as keep track of communication. These chat features enable your team to stay connected even while on the go, whether that's cleaning restrooms or managing customers' requests.
Multiple Forms of Communication
On old legacy systems, you were limited mostly to phone calls. You could use email, but that would be contained in a separate application. With cloud-based hotel phone systems, your options are much greater with calling, texting, video chatting, and more! This can be extremely beneficial for getting in touch with guests and improving your marketing efforts. You may even find creative ways to leverage these tools to better the customer experience. Why pay more for a legacy system and get less?
Common Phone Features (holding, call routing, ques, call conferences, voicemail, wakeup calls)
If you are expecting to lose out on some of the basic phone features when using a new system, think again. Cloud-based hotel phone systems incorporate many of the same features you have come to love in your legacy system. Features such as:
Wake-up calls
Automated operator
Voicemail recording & boxes
Extension groups
Call recording
Voicemail-to-email
Room status updating
Hold music
Custom messaging
And more!
Is a Cloud-Based Hotel Phone System Right for You?
Hotels need a phone system that empowers them to do more without paying more. Cloud-based hotel phone systems are the answer. Not only is cheaper than an analog system, but you can have more features and better integrate your system with other tools. Cloud-based hotel phone system gives you the tools to be competitive and provide a better customer experience. If you'd like to invest in a hotel phone system, 360Connect can help! We help customers find high-quality suppliers who can help with their needs. Just fill out our 1-2 minute and we'll contact you to verify your information. From there, you will receive up to 5 quotes 100% free! It's that simple!