Rental One
Featured Supplier
An interview with:
Doug Miller
Marketing Manager
Who is Rental One?
Rental One is Texas-based, and Family-owned. They pride themselves in being the "Friendliest Equipment Rental Professionals in Texas". Rental One's  primary business line focuses on renting equipment to both commercial contractors in the construction industry, and project and facility managers that oversee large warehouse and distribution centers, industrial plants, or special events centers (R1Equip.com). The company also has strategic supplemental business lines that rent storage containers for construction, industrial, commercial, and retail sites;  and sells construction supplies, rebar, erosion control products and PPE (R1Supply.com). Commercial contractors make up the bulk of Rental One's customer base, and Rental One handles a lot of contracts that range in size from the construction of a football stadium, city playground, retail center or business park to the repair of a foundation or roof on a school district building. Additionally, Rental One's wide selection of equipment is rented to support multiple events each year at various venues across the state. It is common to see Rental One:
Dozers
Wheel Loaders
Containers and Generators at AT&T Stadium
Skid Steers
Telehandlers
Light Towers at Texas Motor Speedway, Alamodome, or other complexes across the state
However, it is important to note that Rental One exists to serve small and large contractors alike and are committed to delivering excellence no matter the size or scale of project.
What is your mission statement
Rental One's President, Mike O'Neal says his business plan can be boiled down to the five words of the company's mission statement: To Serve Others with Excellence. Mike explains, "this mission comes from Matthew 22:37-39. Responding to the question, 'Which is the greatest commandment in the law?' Jesus answered 'Love the Lord your God with all your heart, soul and mind.' Our mission aligns with what He considers to be the first and second greatest commandment: To put love into action by serving others with excellence. We strive to serve our customers, other team members, our vendor partners and our community by showing them that we genuinely care for and love them and to show God through our actions that we love Him."
What type of products does Rental One supply?
Rental One provides a full array of equipment and storage options for most any construction or maintenance project. To view our full equipment lineup, visit R1Equip.com/Equipment.  Common equipment rented includes,  but is not limited to: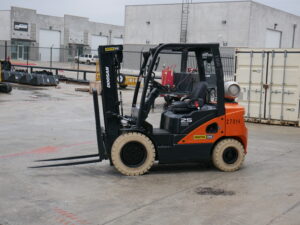 Boom Lifts
Scissor Lifts
Fork Lifts
Power Generators
Light Towers
Excavators
Lawn and Gardening Equipment
Skid Steers
Concrete and Masonry Equipment
Dozers
Compaction Epuipment
Water Trucks
Small Tools
Much More!
Each Rental One location also has a variety of construction, concrete, and safety supplies available for purchase.
What is trending in your industry?
The Texas construction industry is booming. Contractors, Project Managers, and construction professionals want to work with companies that are easy to do business with, are dependable, and can provide efficiency for their projects. Fortunately, Rental One has always centered its purpose on serving others with excellence and being customer focused. Providing a best-in-class customer experience isn't new or novel to Rental One. In fact being, dependable and customer focused are two of Rental One's Core Values along with safety, operating with honesty and integrity, and teamwork. So as the industry demands efficiency and value with every interaction, Rental One is well positioned to meet those demands. It's why we provide "extra value" to our core customers – the equipment rental industry – by also proving supplies for sale at our stores,  or storage containers and mobile job site offices for rent.  Our customers also like the time we save them by allowing them to rent a piece of equipment at one location and return that equipment to any Rental One location of their choosing. They get to pick what's most convenient for them. So if a contractor rents a skid steer in San Antonio and wants to return it weeks later in Denton, we are glad to accommodate that need. We are passionate about bringing value and creating efficiency for our customers. It's why we adopted the slogan "Go With One"…because Rental One really can be a construction professional's one-stop shop.