Top 5 Things To Know About Business Phone Systems
If you are still using an old-fashioned telephone service, it is time to think about switching to a business phone system. But where do you begin? What exactly is a business phone system, and what does VoIP even mean? Valid questions and we are ready to provide the needed information you need to know before buying a Business Phone System.
What is a Business Phone System?
A phone system that enables multiline telephone operations to be used by businesses. It's essentially a system that allows companies, both small and large, to manage their inbound and outbound calls. Using features that are not available on traditional phones such as:
Multiple Lines
Visual Voicemail
Conference Calls
Virtual Lines
And More!
In addition, business phone systems can be thought of as an umbrella term. Within it, there are three main types of systems which are KSU, PBX, and VoIP. VoIP is the most popular of the three, and the one most highlighted by companies.
Business phone systems are a perfect way to unify your business's communication. Check out our top 5 things we believe you should know before choosing your new sleek business phone system.
1.What Exactly is VoIP?
Is your business in need of an upgraded phone system that is easy to use, reliable, and affordable? VoIP is the answer.
VoIP, or Voice Over Internet Protocol, is a phone service that is provided over the internet. All features are done over the internet including voicemails, call recordings, messages, and more. Because of this, it's recommended to have a strong internet connection if looking into VoIP services.
VoIP Features
Call Management
Auto Attendant
Call Recordings
Conference Calling
Mobile App
Toll-Free Numbers
VoIP Cost
The cost of a VoIP system will depend on whether it's powered by a hosted or cloud-based system. A hosted system can cost $197 to $1,600, while a cloud-based system on average is $19.95 a month. Read on to learn more about Hosted vs Cloud-Based to understand which is right for you.
In addition to hosted vs cloud-based, you'll also need to take equipment, broadband network, and monthly costs into consideration. Learn more about how much a VoIP phone system costs for businesses in detail here.
After looking into the cost, check out the different VoIP service providers by clicking here.
VoIP Overview
Cheaper than a landline
More Features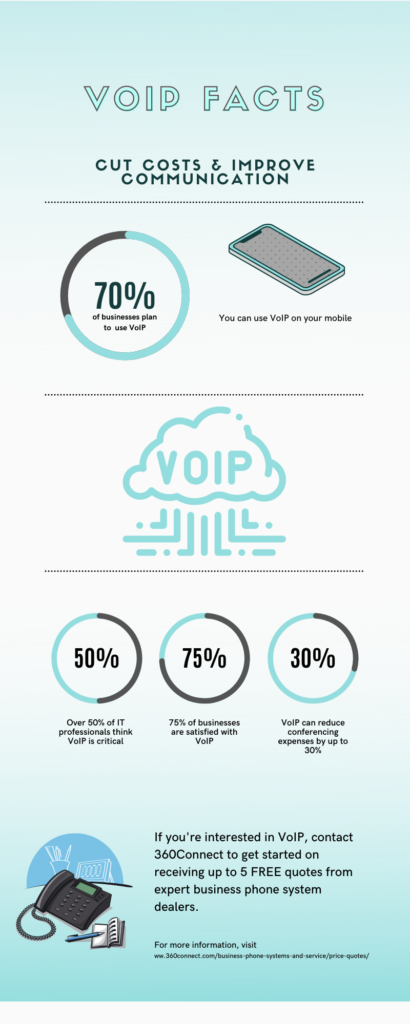 2. Hosted vs Cloud-Based
Now that you know VoIP's features, it's time to determine whether you'll require a hosted or cloud-based phone system. Within business phone systems there are various options to choose from, the main two being hosted and cloud-based systems.
Hosted, or an on-premise phone system is a physical phone system that can only be used at the business's main physical location. With a hosted system, you can enjoy the benefits of VoIP, but only at your place of work.
Is it Right For You?
If you require complete and total control of your network, a hosted solution is best for your business needs.
While the word "cloud" can still seem a bit foreign to many, it's becoming the standard practice in the digital age, and for good reason. Cloud-based phone systems can be used via the internet on and off the company's location. Like hosted services, cloud-based phone systems can also utilize VoIP features.
You can complete tasks flexibly by being able to complete business conversations over the office phone, laptop, or even your smartphone. Access vital voicemails even when away from the office.
Is it Right For You?
If you plan on growing your team or have converted your business into a hybrid of work from home and an in-person work environment it may be best to opt for a cloud-based system.
3. It Can Help You Run Your Business Efficiently
Every business is different, but at the end of the day increased features, flexibility, and a lower payment look good to any industry. That's why business phone systems can help run numerous industry businesses efficiently. It's no wonder 31 percent of businesses utilize VoIP systems.
There's no need to be missing calls in 2021, and an upgraded business phone system proves that. With a business phone system, you can utilize VoIP features to forward calls to voicemail or utilize virtual assistant functions. Prospects and clients are always answered, and you're free to relax and not worry about missing important phone calls.
Industries Benefiting from Business Phone Systems:
4. Save Money with a Business Phone System
If you're still using a local phone company, you're wasting money.
At this point, it's no secret that a business phone system can cut monthly phone expenses greatly. On average, a VoIP business phone system can cost you 40-80 percent LESS than a traditional landline service. Not to mention the added features and benefits we've gone over already that VoIP includes. Even including hardware, maintenance, and monthly costs, the bill is still significantly lower than traditional lines.
IMPORTANT: Have your latest phone & internet bills available as some of our providers can provide a free cost analysis.
Take a look at some of these popular services and their overview, features, and prices:
5. Improve Sales Potential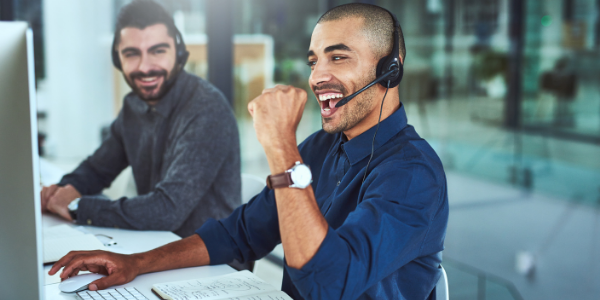 Finally, before buying a business phone system it's important to know just how much it can improve your sales potential.
Using a cloud-based phone system, you can unify communication and integrate your customer relationship management (CRM) system with your phone system. This creates a unified system and communication line that eliminates the need to switch between services and increases the sales team's efficiency. View reports, analytics, and answer calls all within the same location.
Enhancing the performance of your business is important and a business phone system can provide unmatched benefits for sales potential:
Smartphone Compatibility
Flexibility
Streamlining workflow
Consistently improving technology
Get a Quote for a Business Phone System
At 360Connect, we understand the need for businesses to have a reliable form of communication with clients. Whether you are replacing an existing system, need a new system, or expanding a current system we can provide you with up to 5 FREE quotes from Business Phone System dealers to ensure you receive the system that's right for you.
Fill out the Business Phone Systems Quote Form
We Share Your Requests With Up To 5 Suppliers.
A Local Supplier Will Reach Out to You With A Quote
It's that simple. Get started today!